Jenson Button targets good result to keep his title hopes alive

By Andrew Benson
Chief F1 writer
Last updated on .From the section Formula 1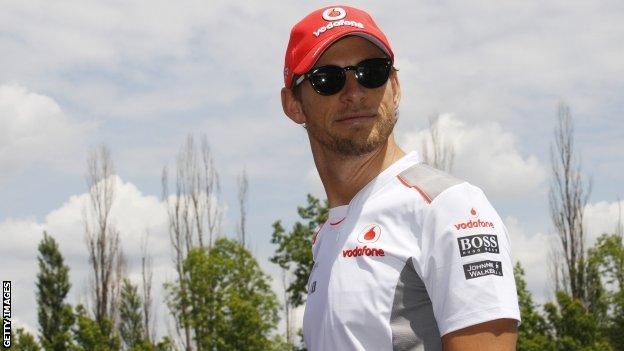 McLaren's Jenson Button admits he needs a good result in Sunday's Canadian Grand Prix to stop his title challenge going off the rails.
The Englishman, 32, has slipped to seventh in the championship, 31 points off leader Fernando Alonso of Ferrari.
Button said: "In the last few races, I've retired twice and scored two points in the other race. They haven't been my finest weekends.
"So I need to score some good points this weekend to get it back on track."
Button won the first race of the season in Australia and was a strong second at the third race in China but has struggled at the other four races.
"To be honest, I purposefully haven't looked at the points for the last few races," Button said, "but I don't think anyone is streaking away in the championship just yet - as we've seen, it's been a very mixed bag this year.
"It just hasn't gone my way, or the team's way, in the last few races, but that will turn round and we will be back scoring good points."
Button's team-mate Lewis Hamilton is fourth in the championship, 13 points behind Alonso, but has yet to win a race despite qualifying fastest in three of the six races.
He said: "We're still in the fight. I am battling out there to try to win, we just haven't got that first one yet, but I'm sure we will at some stage.
"So far the qualifying has been good, we're just trying to improve on our race results. We've got that foundation now so if we can continue with that and improve our pace we could have some good results."
The first six races have been won by six different drivers for the first time in F1 history.
Alonso heads the standings despite driving a car that was 1.5 seconds off the pace at the start of the season and which, despite improving, still has not achieved a pole position.
And the Spaniard said that with 14 races still to go, he would not be able to hold on to his position unless Ferrari improved the car.
"As long as there are different winners in races, you need to be consistent if you want to lead the championship," Alonso said.
"If sooner or later we arrive now at some races, maybe in July, when there are three races in four weeks, and in those races one guy manages to win two races, then you need something more than consistency. We need to improve the pure pace of the car.
"On Sundays we normally are a little bit more competitive. We take advantage of the experience from the team and the talent from the team in terms of preparation for the race, the starts, and the strategy.
"But we know that we are not fast enough, especially on Saturday when we are all in the same conditions, with low fuel and new tyres. We are struggling to be in Q3 [final qualifying] sometimes and we are not anywhere close to pole position.
"With that, that we are now leading the championship is something that we cannot maintain if we are not quick enough.
"We are not the fastest on the track. So that is something that we need to look for and hopefully [here] in Canada we will see another step forward from the team and we are close again to the top guys. But we will not know until after qualifying."