Red Bull drivers believe rule change won't affect the team

By Andrew Benson
Chief F1 writer
Last updated on .From the section Formula 1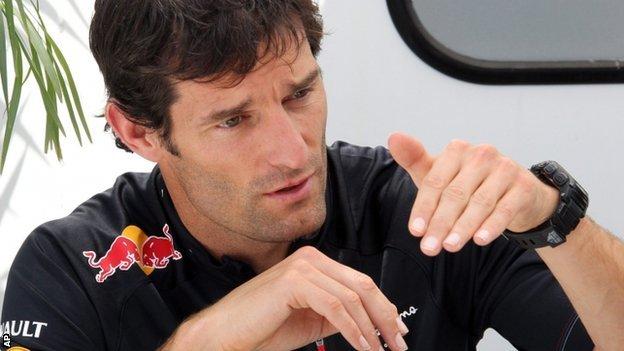 Mark Webber and Sebastian Vettel say they will not be affected by a rule change that has forced Red Bull to make modifications to both cars.
But a defiant Webber, who won in Monaco, insisted: "We're very optimistic that the change won't make much difference at all."
Team-mate and double world champion Vettel added that it was a "shame" the rules had been tweaked but said the result would not be a "big penalty" to Red Bull.
Vettel and Webber are second and third in the championship respectively, three points behind Ferrari's Fernando Alonso.
The contentious floor design, which was there to provide an aerodynamic advantage, has helped them win two of the last three races.
But it has now had to be modified for this weekend's Canadian Grand Prix, although team boss Christian Horner said they had not planned to run it in Montreal anyway.
Critics have commented that the team have been running with an illegal car but Webber gave that view short shrift in Canada on Thursday.
"In relation to winning races with an illegal car, I'm happy to be called lots of things and I'm happy to have criticism about my driving and lots of stuff, but I will not take criticism in that respect," the Australian said.
"The car has passed every single technical regulation after the race.
"All of the teams that were against it did not make any protest after Monaco, the car passed the test after Bahrain, the car passed the test after Monaco and now there has been a clarification on the rule.
"The rule now is different and we had a car that was legal for the first part of the season and now the rule has been changed and we will start again, so looking forward to it."
Webber said the team planned to close the hole in the floor anyway for the Valencia Grand Prix on 25 June.
"You won't believe us," he said, "but we had some changes for Valencia anyway which included no hole, irrespective of the rule change, so that's what we were doing."
The contentious hole in the floor was situated in front of the rear tyres, to feed air into the underbody and make it work more efficiently.
But BBC F1 technical analyst Gary Anderson said the nature of the circuit in Canada could be the reason why Red Bull had decided to run without it this weekend.
"The hole is there to make the floor work more robustly," said Anderson, the former technical director of the Jordan, Stewart and Jaguar teams.
"But this circuit is quite low speed so you want the underfloor to stall (stop producing maximum downforce) earlier, so you might close the hole off here anyway."