Red Bull's Sebastian Vettel takes pole position in Canada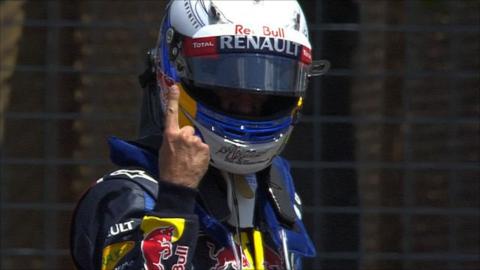 Red Bull's Sebastian Vettel took a stunning pole at the Canadian Grand Prix from McLaren's Lewis Hamilton and Ferrari's Fernando Alonso.
The world champion was 0.303 seconds quicker than Hamilton - the biggest margin between the two quickest cars there has been all weekend.
Hamilton and Alonso both seemed to be on target to challenge Vettel's time on their final runs but fell short.
Force India's Paul di Resta was eighth and McLaren's Jenson Button 10th.
Button had struggled all day after missing much of Friday practice with reliability problems and was never in with a shout at the front.
That battle was left to the three men who most regard as the finest drivers in the world.
Vettel was the form man throughout qualifying. He headed the first two sessions and was the only man to dip below the one minute 14 seconds barrier.
Vettel managed that on both his runs in final qualifying, setting a pole time of one minute 13.784 on his final run.
As Hamilton joined Vettel at the weigh-in afterwards, he appeared to say: "Wow, that's a good time."
Vettel said: "We have learned a few lessons in the last two races where we were quick but didn't get it out of the car in qualifying.
"We trusted the car we had and were able to go with the circuit and try to read the conditions, I was very happy in qualifying.
"I was able to always go a little bit quicker. It looked very tight but in the end it seemed we could make a bit more of a difference."
Nevertheless, both he and Alonso looked as if they might challenge Vettel on their own last laps, but they faded in the final sectors.
Hamilton, who had been very happy with his car on Friday, said it had not been as good in the run-up to qualifying.
"I got absolutely everything, very happy with the lap - squeezed every ounce of it.
"We've generally struggled today, I think it's the temperatures, switching on these tyres. Overall, I don't know where that time came from from Sebastian, he did a great job.
"I thought it would be behind a Ferrari and maybe a Mercedes. I was really grateful we were on the front row."
Alonso's performance equals his best qualifying position of the year and comes after a re-design of the rear bodywork improved the Ferrari's downforce.
"The car felt quite good on Friday when we tested some new parts and we feel much more happy now with the balance and grip," he said.
"It's a first step. The work will never stop for us and the competitors, but at the moment we are extremely happy and thankful to the guys in the factory."
Mark Webber's Red Bull was fourth, while the expected challenge from Mercedes never materialised - Nico Rosberg was fifth and Michael Schumacher only ninth after he failed to get around to the start-finish line in time to start his final lap before the chequered flag fell to end the session.
Schumacher said: "I passed the line with the green lights on, preparing to do the final lap in the last minute to get the tyres in the optimum working window and then the team told me to come in.
"Apparently I crossed the line already with the chequered flag, from where I saw it I was passing with the lights on. You saw where I was in Q1 and Q2, so somewhere there - fourth or fifth - is where I should have been."
Ferrari's Felipe Massa was sixth, ahead of Lotus driver Romain Grosjean, whose team-mate Kimi Raikkonen did not make it into the top 10, his attempts hindered by a hydraulics problem.
Williams's Pastor Maldonado was on course to knock Button out of the top 10 but crashed at the last corner on his final lap.
That meant he ended up 17th - and out-qualified by his team-mate Bruno Senna for the first time since the Bahrain Grand Prix three races ago.
There was an impressive performance from HRT's Pedro de la Rosa.
The veteran Spaniard qualified 21st - ahead of both the Marussia cars, to underline the strong progress the restructured Spanish team has shown in the last few weeks.
Canadian Grand Prix 2012, day three
Sunday, 10 June:

Race 18:45-20:50 BST, live text and audio commentary BBC Sport website and BBC Radio 5 live sports extra live. Race highlights 22:30-00:30, BBC One.