Ferrari president Luca Di Montezemolo urges F1 cost-cutting
Last updated on .From the section Formula 1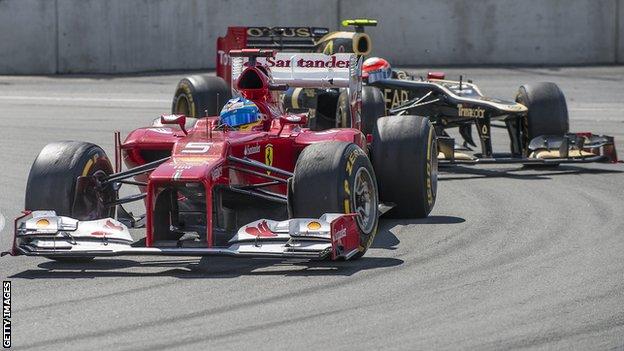 Ferrari president Luca Di Montezemolo has urged Formula 1 to take immediate action to cut costs in the wake of the European financial crisis.
The teams are in negotiations about ways to keep a lid on spending but they have so far not reached a conclusion.
"The world economic situation and that of Europe is very serious and F1 cannot ignore the fact," he said.
"We cannot lose any more time. We need to tackle urgently, and with determination, the question of costs."
Di Montezemolo's statement comes at a time when the teams are negotiating a new contract with the commercial rights holder and governing body the FIA - the existing deal runs out at the end of this season.
Ferrari has already struck a deal with F1 commercial boss Bernie Ecclestone that is reputed to not only maintain its position as the team that receives most money from its contract with F1, but also increases the amount it is awarded.
Among the many topics up for discussion, the teams have been pushing to include a formal cost-control agreement into the official FIA sporting regulations.
That follows the departure of Ferrari and Red Bull from the F1 teams' umbrella body Fota last year because of disagreements over its Resource Restriction Agreement. That came after claims that Red Bull were breaching it, something the team denies.
At the same time, there is concern in F1 at the decision to switch to a new type of engine in 2014. The private teams are worried they will not be able to afford them and there have been claims Ferrari are involved in attempts to ditch the engines and stick with the current 2.4-litre V8s. Ferrari deny this.
Di Montezemolo added: "Ferrari is in agreement with the FIA's position that drastic intervention is required.
"We are absolutely convinced that, as I have always said, the teams and the commercial rights holder must work together with the federation on this front.
"This is no longer the moment for getting bogged down in sterile discussions or the meanderings of engineers, usually only concerned in defending the interests of someone or other: the question has to be tackled at the highest level, without further delay."