Michael Schumacher backed by Ross Brawn for Valencia victory

By Andrew Benson
Chief F1 writer
Last updated on .From the section Formula 1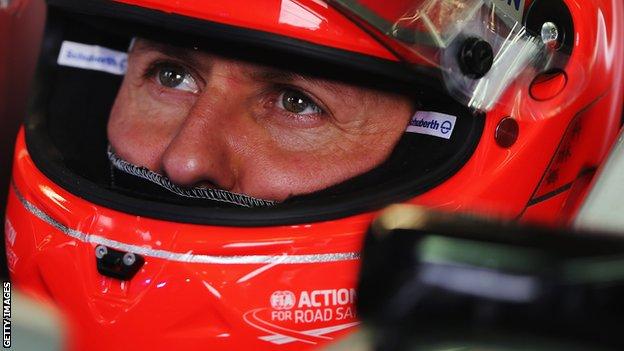 Michael Schumacher could become the season's eighth winner in eight races at Sunday's European Grand Prix, his team boss Ross Brawn says.
Brawn believes his Mercedes team will be competitive in Valencia and that Schumacher can end a run of bad luck.
"There's every opportunity that at the next race in Valencia we're going to have an eighth winner," Brawn said.
"There are some very quick drivers in very quick cars who have not won a race yet - think of Michael in our car."
Brawn also mentioned Lotus and Sauber as challengers among the teams yet to win.
He added: "I expect Valencia to be a reasonably good track for us and I expect us to be competitive as we have been in most of the races this season."
Schumacher has scored only two points this season following a series of reliability problems.
The German veteran has finished only two races, having retired because of car failure from four others - including the most recent Grand Prix in Canada - and following a driver error in the other.
Brawn, who was talking in an interview on Mercedes' YouTube channel, described the poor reliability of Schumacher's car as "a huge frustration".
"Our standards are very high," he said. "We haven't changed anything or let our standards slip on any way, so it has been highly frustrating that we have had so many problems.
"It's peculiar we have had one car do every lap of every race and one with so many problems."
Brawn said Mercedes had not fulfilled their potential so far this season.
"We still have a lot of races left," he said, "but I am pleased with the performance of the car because we have won a race and were second in Monaco.
"The car is nearly always in the top four or six in qualifying, so I think it is much more competitive this year.
"But we haven't quite put the whole programme together. We have dropped the ball in a couple of races and we have not made the most of it.
"I intend for the rest of the season to make sure we as a team fulfill our potential because I think the potential this year is much better than previous years."
Despite that, their other driver Nico Rosberg is fifth in the championship, just 21 points off the lead, having scored more points than any rival since his win in the Chinese Grand Prix in April.
Brawn said he believed the German could still win the world title this season.
"Nico is driving very well, the car is extremely competitive and he is one race win away from leading the world championship.
"We just have to fight with everything we have to achieve the best results we can and see what evolves, but there is no reason why not."