Alonso and Vettel could co-exist as team-mates, say Ferrari

By Andrew Benson
Chief F1 writer
Last updated on .From the section Formula 135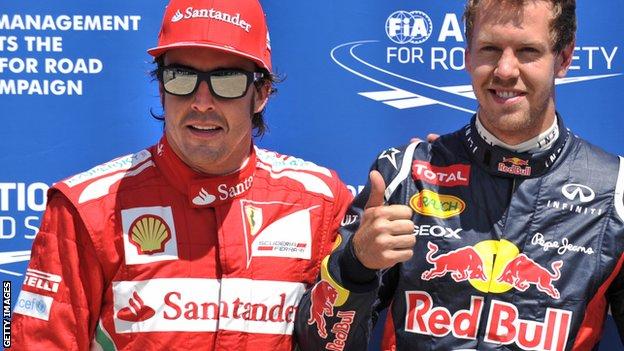 Ferrari team principal Stefano Domenicali believes Fernando Alonso and Sebastian Vettel could drive as team-mates without problems.
Domenicali said: "I think they are both intelligent guys and they could easily co-exist together."
F1 boss Bernie Ecclestone claims the arrangement "wouldn't be a problem".
Domenicali and Ecclestone were interviewed by German magazine Sport Bild, and Ferrari published extracts on their website.
Ecclestone said: "All drivers want to drive for Ferrari at least once in their career, don't they?"
Domenicali responded: "In life one should never say never!"
Their remarks, as well as Ferrari's decision to highlight them, will add weight to claims that Vettel could join Alonso at Ferrari in 2014.
BBC Sport reported last month that Vettel had a pre-contract with Ferrari, believed to be two-way and performance-related.
Red Bull team boss Christian Horner denied the claims, saying they had Vettel under contract in 2014.
But Red Bull adviser Helmut Marko, the right-hand man of the company's owner Dietrich Mateschitz, admitted that the double world champion's contract contains performance clauses.
German Vettel has said he cannot imagine driving for a team other than Red Bull.
Vettel, Alonso and McLaren's Lewis Hamilton are widely regarded as the three best drivers in the world.
The best drivers tend to avoid racing for the same team, but Ecclestone said of Alonso and Vettel: "Both are drivers who are always looking for a new challenge, and to be in the same team would be a new and big challenge.
"They would both think they can beat the other one, as they are sure of themselves and Stefano would do what was required to so that they were treated equally.
"It would be a case of doing what I did at Brabham in 1979 with Niki Lauda and Nelson Piquet. I told them, 'guys it's simple: whichever one of you is quickest is the team number one'."
A source close to Ferrari says Alonso has vetoed the idea of Hamilton joining him at the team but given his approval to Vettel.
Alonso is second in the championship heading into this weekend's European Grand Prix, despite starting the season with a car that was more than a second off the pace.
The Spaniard is two points behind Hamilton, and one ahead of Vettel.
Recent improvements have made the Ferrari more competitive, but it has still not been fast enough to set a pole position.
Domenicali said: "Alonso is the fastest driver of all - I'm sure of that - and it's been like that since testing at the start of the year, despite the fact our car was definitely not very quick.
"Now we have improved it, even if we are not yet at the level we want to be. The cars are very close and we are witnessing a really incredible championship which for the fans is a real spectacle."