Jaime Alguersuari column: Valencia Grand Prix preview

By Jaime Alguersuari
BBC Radio 5 live analyst
Last updated on .From the section Formula 1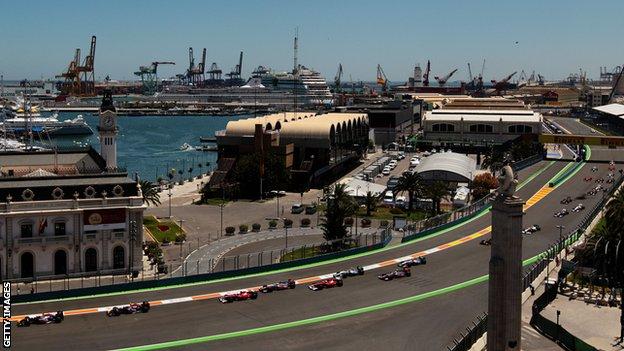 Valencia is a track that has a bit of a reputation for producing boring races, but this one has real promise.
Pirelli has chosen to take the "soft" and "medium" tyres there, which will make it quite challenging for all the teams because the race will be in hot conditions and the circuit can be quite tough on tyres.
That will probably mean there are quite big differences between the performance of the cars in the race and in qualifying - which means difficulties with tyre management and lots of racing and changes of position.
We have had seven different winners in seven different races and there is no reason why there can't be more winners in the forthcoming races as well.
Lewis Hamilton, Fernando Alonso and Sebastian Vettel are in the top three places in the championship after seven of the 20 races. As they are generally regarded as the best drivers in Formula 1, some now think the title is becoming a three-way battle.
I don't agree. I think it's still very open and there are several reasons for that.
The differences between the performances of the cars are still very small, both over one lap in qualifying and in various situations over a race distance.
Some cars are better in qualifying than races - and vice versa.
Tyre management is still the key to being successful in races - as you saw in Montreal, when Alonso and Vettel lost podium positions to Lotus's Romain Grosjean and Sauber's Sergio Perez because their tyres did not last.
The fact that Hamilton, Alonso and Vettel are leading the championship at this stage underlines that drivers are more important than ever this year.
The driver needs to deal with every race in the best way - that's how Alonso is where he is in the championship. He has never had the fastest car, and yet he's right at the top of the championship.
He has demonstrated that being consistent and doing good race strategies is what is going to win the championship.
Ferrari appeared to make a bit of a mistake in Canada - Alonso lost some places by trying to do a one-stop strategy that did not work out.
Actually, though, we shouldn't blame them for their strategy because they did not lose out much. Probably the best they could have got was a third place, because Grosjean and Perez had much better tyre degradation.
Generally this season Ferrari have pretty much maximised their strategy, pit stops and tyre choices with Alonso.
So they should be happy with a fifth place in Canada, because it looks like that's about the average finishing position you're going to need to win the title this year.
BAFFLING BUTTON
If you look at the championship table now, I would say that everyone down to Jenson Button in eighth place still has a chance of the championship.
Button is 43 points behind Hamilton - that's a win and a second place. But there are 13 races to go, so it's still wide open.
Having said that, I have been quite amazed to see Button struggling so much in the last three races - and he needs to start scoring good points again right away.
You never know what is going to happen later in the year. Someone could suddenly come up with a big advantage. That's why you need to grab every point you can and make as few mistakes as possible.
In Canada he was struggling with pace and tyre wear and I hope he comes back because he is a great driver.
He has said he is confused about what is going wrong, but I believe one of the problems is that he is misinterpreting the problems he is having with the tyres.
At the Spanish Grand Prix, he said over the team radio that he had problems getting the tyres to warm-up, especially on the hard compound.
The cars are sliding more this year because some aerodynamic aids have been banned. And in fact, he was misinterpreting the feeling - he was actually suffering from tyre over-heating.
So all the changes McLaren made for Saturday were aimed at curing the wrong problem - and made the problem they had worse.
For example, they changed to a different type of brake that has a higher operating temperature, in an attempt to get more heat into the tyres. But they needed the opposite.
That is an example of how much more difficult F1 is becoming this year - you need to be so precise with all the information, because any change a team makes can make a big difference to the way the tyres work.
TEAMS' STRUGGLES
The impression being given in F1 at the moment is that the teams don't understand the tyres. That's not the case.
They know exactly how the tyre works, in terms of its working temperature range and so on - they just don't know how to set up their cars to get the maximum out of the tyres.
For this reason, I don't understand some of the things they do.
When it rains, for example, no-one runs - and then they complain they don't understand the wet and intermediate tyres when it does rain.
They don't run because they're afraid the drivers might crash and damage the car.
But the obvious thing to do is run in the wet, like we did at Toro Rosso last year - and work at understanding how the tyres work in various conditions, and what you need to do to make them work. Otherwise, you never get the information you need.
CHILDHOOD HERO UNDER SCRUTINY
I was dismayed to read about the decision of the US Anti-Doping Agency to charge Lance Armstrong with taking performance-enhancing drugs during his career.
Like many F1 drivers, I love cycling and Armstrong was a massive hero of mine as a child, when he was winning his seven consecutive Tour de France titles.
As everyone knows, that sport has had a problem with doping for far too long.
If Armstrong loses the case and it is confirmed that he took drugs, I would lose a lot of passion for professional cycling.
Jaime Alguersuari was a Toro Rosso F1 driver from 2009-2011. He is currently a Pirelli F1 test driver and BBC 5 live's analyst. He was talking to BBC Sport's Andrew Benson.