Jenson Button hopeful of return to form in European Grand Prix

By Andrew Benson
Chief F1 writer
Last updated on .From the section Formula 1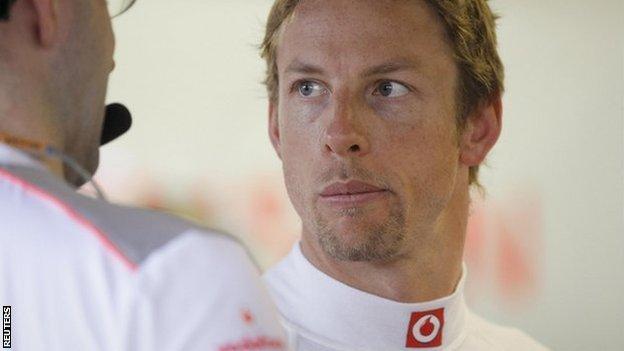 Britain's Jenson Button is confident he will bounce back to form at this weekend's European Grand Prix.
Button is 43 points behind his McLaren team-mate Lewis Hamilton after scoring only two points in the last four races.
Button was lapped by Hamilton in Canada last time out and has reverted to his team-mate's car set-up for Valencia.
"I've done a hell of a lot of laps in the simulator with this set-up I'm starting with. We should be able to get on top of it pretty quickly," he said.
Button's lack of pace in Canada has been attributed to him running a different rear suspension set-up from Hamilton, which wore out his rear tyres.
But that does not explain his lack of pace in the preceding races in Spain and Monaco.
Button and McLaren have been working hard in the last two weeks to try to understand where they may have been going wrong.
"We do have a good understanding of (what went wrong in) Canada, but whether we've improved it for this race we'll have to wait and see," he said.
"You do things to the car that you think are correct and in the normal world they would be.
"After Bahrain (the fourth race) I tried something different and I thought it would help but I'm not sure it was the right direction.
"In a way, maybe it's the best way round, we have done it in a race now, and when you get it wrong, it seriously goes wrong. It focuses you on getting it 100% perfect when you go to a grand prix."
Asked if he was confident he could win in Valencia this weekend, he said: "100%. Having seven winners (in seven races) this year is a shock to everyone.
"I've got as good a chance as anyone."
Button said that the Montreal experience could serve McLaren well for the future, in that "we had one car that was quick and one that wasn't. That's a lot of useful info for us."
He admitted his title chances had taken a hit as a result of his struggles but said he was optimistic that he was still in with a chance.
"The weird thing is, I've scored points in three races, failed to in four, and in one of them I scored two, and I'm still only 43 points behind the leader. (It's the) strangest championship, still a lot is possible."