Fernando Alonso says he would team up with Lewis Hamilton

By Andrew Benson
Chief F1 writer
Last updated on .From the section Formula 1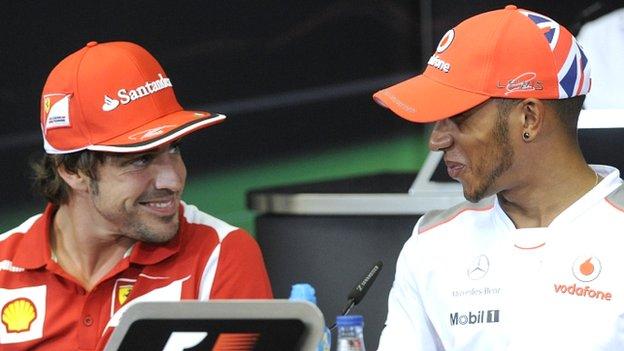 Fernando Alonso says he would have "no problem" with either Lewis Hamilton or Sebastian Vettel as a future team-mate at Ferrari.
Hamilton is out of contract at McLaren this year and Red Bull's Vettel is known to have a non-binding pre-contract with Ferrari for 2014.
Alonso admitted that Ferrari would consult him on the identity of his team-mate. "It's an open chat, we talk, but in the end it's their decision," he said.
Hamilton hinted he would stay at McLaren in 2013 and expected talks about his future to be smooth.
While the Englishman is considered unlikely to move to Ferrari next year, he is of interest to Mercedes and could also be in the frame at Red Bull, where the presence of F1's top designer, Adrian Newey, is a lure.
McLaren chairman Ron Dennis implied at the last race in Montreal that Hamilton would have to accept a pay cut to stay with the team.
Dennis said Hamilton's last contract was negotiated when the economy was in better shape and that there would have to be a "balancing" this time.
Hamilton said in Valencia, ahead of this weekend's European Grand Prix: "Ron is a very tough negotiator. He was very tough when they negotiated the contract that I have now and I expect him to be the same when we go back in (this time). I don't see there being many problems, to be honest."
Alonso's remarks about Hamilton contradict information received by BBC Sport and other media organisations that he had vetoed the Englishman joining Ferrari, but told the team he was fine with the idea of Vettel coming on board.
Hamilton and Alonso spent a tumultuous year as team-mates at McLaren in 2007. But the Spaniard's problems were more with McLaren than Hamilton himself and they have both expressed their admiration for the other's talent on a regular basis in the last year or so.
Red Bull's Mark Webber has also been mentioned as a possible team-mate for Alonso next season, but a lot of attention is focusing on 2014.
It has emerged that Vettel and Ferrari have some form of pre-contract, which has options on both sides and which is dependent on the team's performance in 2013. The precise details are not known.
Vettel is contracted to Red Bull until the end of 2014 but Red Bull adviser Helmut Marko has admitted that the German's contract has a performance clause that, if the team do not meet it, could see him leave at the end of 2013.
Vettel said: "I'm flattered, obviously. I've always said Ferrari is a great team with a great history and a great tradition in F1, but I'm very happy with where I am at the moment.
"I respect Ferrari and Fernando a lot and I see it as a compliment if they take that into account. Does it unsettle me? No. The focus is on this season."
Alonso described talk about Ferrari's next driver as "rumours".
"When I won the 2005 championship with Renault, I was linked to Ferrari immediately - and I arrived in 2010," he said.
"So, if Sebastian is linked now, maybe he'll arrive in five years' time. I don't know.
"(I'm) extremely happy with Felipe (Massa). Whatever team-mate comes in the future will be welcome, will be part of the team and part of Ferrari and, as I said, when I joined this team the most important thing in Ferrari is to help each other to make one red car win.
"It's something that president (Luca) Di Montezemolo is very clear on when you arrive on day one in Ferrari. So, whatever team-mate is coming in the future, if it comes, will be no problem and we will try to work as we are doing now with Felipe."
Massa struggled at the start of the season, and it was thought the Brazilian would lose his drive at Ferrari next year.
But his form has improved in recent races and Alonso said he thought Massa could yet stay on as his team-mate.
"Yeah. I do," Alonso said. "I have a lot of respect for Felipe.
"From the outside it's difficult to appreciate what a challenging time he's given to me in the last three years. He's not bad, even if from the outside he looks (it)."