European GP: Lewis Hamilton tips Lotus as favourites for win

By Andrew Benson
Chief F1 writer
Last updated on .From the section Formula 1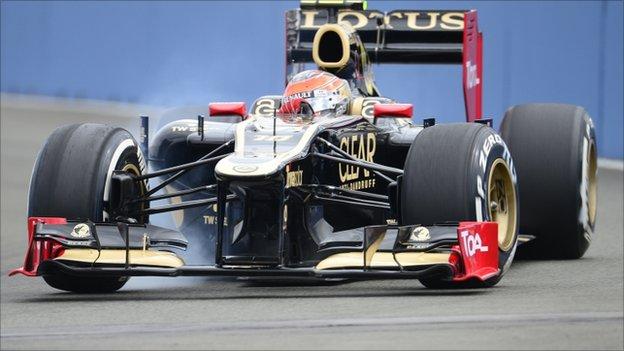 Lewis Hamilton has tipped Lotus as the favourites to win Sunday's European Grand Prix in Valencia.
"I don't know who is going to win but I think the Lotus is going to be strongest," Hamilton said.
"In the race it is between us and a lot of drivers," Hamilton said, adding that Force India and Ferrari were strong.
Qualifying was intensely competitive in Valencia, with only 0.218secs separating the fastest driver in the second knock-out session from Fernando Alonso's Ferrari, which was 11th and therefore did not make it into the top 10 shoot-out.
But in the final session, Vettel produced a stunning time to qualify 0.324 seconds clear of Hamilton in second place.
The same margin covered the next six cars, with Williams's Pastor Maldonado third ahead of the Lotuses of Romain Grosjean and Kimi Raikkonen, Nico Rosberg's Mercedes and the Sauber of Kamui Kobayashi.
The Force Indias of Nico Hulkenberg and Paul Di Resta in eighth and 10th places sandwiched Hamilton's McLaren team-mate Jenson Button.
Red Bull have introduced a significant redesign onto their car and Hamilton said he felt Vettel could have gone even faster.
"I don't see him struggling too much [in the race]," Hamilton said. "He has a big upgrade package, he has 0.4secs in his pocket just from one run, which means he could have had even more if he'd done two runs.
"They're going to be very competitive, we just have to focus on our job and what will be will be."
Hamilton said he expected a difficult time in the race as the McLaren had proved to be tougher on its tyres than a number of other cars.
"It's going to be real tough race, it's going to be a real mixture because some people have very good long runs like the Lotuses and Ferraris and Saubers, and there's some others who struggle with it a bit more like us, so we have to see how we handle it.
Lotus have looked strong all weekend and Grosjean could well have qualified higher had he not made a mistake on his fastest lap in the top 10 shoot-out.
Asked if Grosjean could win, Hamilton said: "Absolutely. He has a very good chance, he has a very quick car and the best long-run pace of us all."
The Frenchman, who is in his first full season in F1, acknowledged that a win was possible.
"If I started tomorrow without thinking about the win, it wouldn't be right. But I am not just focusing on winning.
"If we can, then I will do it, if we cannot I will take whatever we can get, every point is important for the championship. We have a good chance to score some good points and that is the main objective."