British GP: Paul Di Resta positive ahead of Silverstone
Last updated on .From the section Formula 1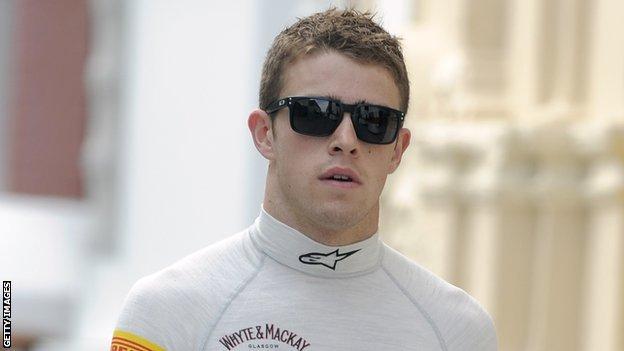 Scottish driver Paul Di Resta insists he is confident going into the British Grand Prix despite disappointment in his last two races.
The Force India driver finished 11th in the Canadian Grand Prix and seventh in Valencia on Sunday.
But despite feeling he could have finished higher, Di Resta is looking forward to Silverstone on 8 July.
"If we can carry on from where we are we should be going into it thinking positively," he said.
"Ahead of Silverstone we've some minor upgrades coming that should give us performance.
"We've still work to do because the problem with Silverstone is that it will show up any struggle you have."
Di Resta was in fifth place at his first pit stop in Montreal, but dropped back in the second half of the race.
And, at the European Grand Prix on Sunday, he was at one point second, but suggested his team's one-stop strategy could have been at fault for his slide down the places.
Di Resta struggled in the closing stages with badly worn tyres.
"We clearly missed a trick, but we were fairly aggressive with our strategy and stuck with it when we could have probably bailed out," he said.
"I achieved what the team set out on paper, so from that point of view you have to be happy, but the race couldn't finish soon enough.
"Unfortunately that's two races now where I've been in a great position, but where things I can't control have made a difference to the result.
"So you take the positives, the car was quick, but the finish did not reflect what we could have achieved," he added.