Jaime Alguersuari column: 'Strange' European Grand Prix

By Jaime Alguersuari
BBC Radio 5 live analyst
Last updated on .From the section Formula 1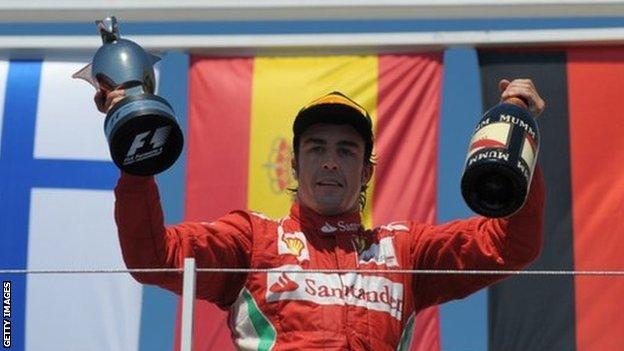 Fernando Alonso drove a fantastic race to win the European Grand Prix in Valencia on Sunday.
He made some amazing moves to climb up from 11th on the grid and he showed a very good pace throughout the race, very consistent and very fast, which was not the case in practice and qualifying.
It was a strange, slightly chaotic, race. A lot of people crashed, there were a lot of retirements and a few things helped Alonso along the way, but he did the job and deserved the win.
In that sense, it was a little bit like his victory in Malaysia in March - he put himself in a position to win and the cards fell slightly in his favour.
It was an emotional day for Fernando, winning at home when he did not expect to, with the crowds waving Spanish and Ferrari flags.
The people went crazy when he won - it was just the day after Spain had qualified for the semi-finals of Euro 2012.
The Spanish people are never going to be as interested in Formula 1 as they are in football. In fact, F1 was never really followed in Spain until Fernando came along.
But he has done a fantastic job to make people understand a little bit about F1 and he has been great for motorsport in Spain to the extent that more children are starting racing in go-karts and we have more drivers racing in different series around Europe.
RED BULL LOOKING GOOD
Alonso's win, together with retirements for Sebastian Vettel and Lewis Hamilton, has put him in a good position in the championship, but there is a long way to go yet.
Red Bull produced a fantastic development for their car in Valencia, modifying the rear aerodynamics, and it was pretty obvious from Vettel's pace all weekend that they now have the most competitive car.
This year is not just about winning races - as Alonso and Red Bull's Mark Webber have shown by being first and second in the championship at this stage.
It is about being there at the correct time, maximising what you can get out of a given weekend and, if you can't win, it's better to come third or fourth and get some points than risk too much.
Red Bull now have a good performance difference between them and their competitors, and they can recover the gap.
The championship is long and anything can happen, but Red Bull look like they are in the best position at the moment.
A PODIUM AT LAST FOR SCHUMACHER
The other notable thing about the race was that Michael Schumacher scored his first podium since he returned to F1 at the start of 2010.
He has been criticised since his comeback but I don't think he has suddenly improved this year. I think he has always been at a good level but that F1 is very different now than when he was in it.
Schumacher had different tyres than the others; now the tyres are the same for everyone. He had a bespoke car and engine; now the engines are at the same level. He had unlimited testing; now there is no testing, so developing a car is more difficult.
F1 is now about what you can do at a race weekend, improving the aerodynamic and mechanical set-up of the car and understanding the tyres.
Michael has been doing a good job this year, but I still think his team-mate Nico Rosberg is a step ahead of him.
I respect Michael enormously. He has a big history in F1, he is a reference for everyone and he will always be a great driver.
BACK IN THE COCKPIT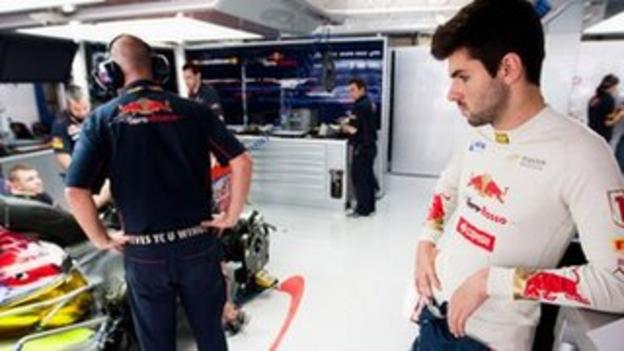 For me, although I was happy for Fernando, Sunday was a tough day because I really wanted to be part of the race after being there for the last three years.
I'm really missing F1 - this would be a great year to be involved. Everything is so close, you can play with the strategy a lot, tyre management is so important.
But I just have to bide my time. I am pretty sure I will be driving in F1 again next year with a good team. Everything is looking very good at the moment.
I am only 22. I have scored 31 points in F1. And what I am trying to do with my work with BBC Radio 5 live and as Pirelli's F1 test driver this year is to develop and understand myself better and give myself a much better future in F1.
My aim is to follow in Fernando's footsteps. My dream is to become Spain's number one and be a world champion myself in a few years.
This week, I am at Spa in Belgium working with Pirelli to develop the F1 tyres for next season.
I'm really looking forward to it. I love the track, we are using a 2010 Renault F1 car, which is a really nice car, and it is fascinating developing the tyres, trying to improve them and understanding how they work.