Sebastian Vettel praises Fernando Alonso and Lewis Hamilton

By Andrew Benson
Chief F1 writer
Last updated on .From the section Formula 1116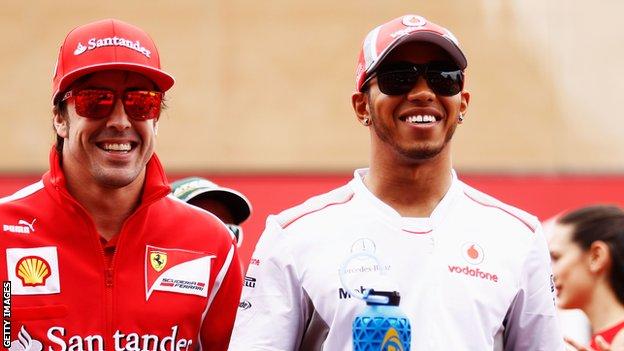 World champion Sebastian Vettel has picked Fernando Alonso and Lewis Hamilton as the two outstanding drivers of the modern generation.
The German was asked at the Goodwood Festival of Speed which modern drivers could be all-time greats.
Vettel said: "The ones that stand out are probably Fernando, he's one of the most complete drivers. Lewis is very, very quick. There are plenty of others.
"Michael [Schumacher] is still in the game. I don't think he has lost it."
Vettel, who is more interested in grand prix history than is usual for a modern driver, said the current F1 field was especially strong.
"At the moment we have a lot of drivers performing at a similar level - it is very competitive," he said.
"It is a long list at the moment. We have had a lot of different winners this season and all of those drivers are very competitive and very fast."
The Red Bull driver added that greatness was determined by more than statistics.
Asked if drivers should be judged by the number of titles they had won, he replied: "Yes and no. The success is a big part of it.
"If you look at great names from the past, drivers like Alain Prost, Ayrton Senna, Jackie Stewart... they all won a lot of titles.
"But there are other names that stay in your head and stay around because they had something extra. They were special.
"All F1 drivers are very quick, but those guys had something extra, something maybe the people loved, he was very entertaining, it was very special to watch him driving the car.
"There are plenty of other characters who maybe didn't win the title but are still people's heroes and rightly so."
Asked for an example, he picked Austrian Jochen Rindt, who is the sport's only posthumous world champion and won only six grands prix.
He added: "You had a lot of successful and popular drivers, people like [two-time champion] Jim Clark - people will never forget drivers like him."
Vettel said he was optimistic this weekend's British Grand Prix would confirm the step forward in performance his Red Bull car showed at the last race in Valencia, which he dominated before his retirement with alternator failure.
"We hope so," he said. "Silverstone is a very different track in terms of speed range. Valencia is fairly low speed.
"Weather-wise it is going to be different. I'd be surprised if we had 30C sunshine in Silverstone, but maybe the English summer will treat us differently this year.
"It will be interesting, and it is important for us to confirm the feeling we had in Valencia. Not the result."