Why F1 drivers love the British GP

By Jaime Alguersuari
BBC Radio 5 live analyst
Last updated on .From the section Formula 1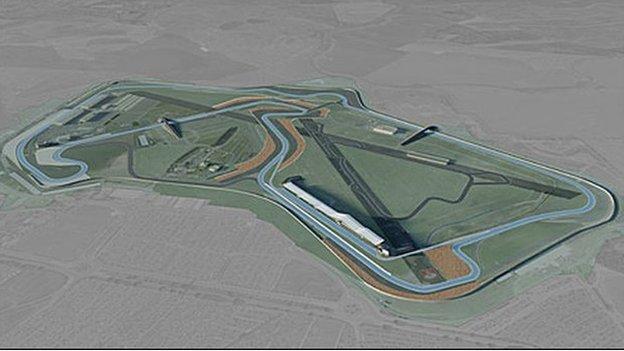 The British Grand Prix, which takes place this weekend, is a favourite for all of the Formula 1 drivers, not least because Silverstone is a classic track, with a fantastic layout.
You have a fantastic combination of fast and slow corners. They have kept all the great quick ones like Copse and Becketts and added a nice new section where there is hard braking and overtaking is possible.
It reminds me of Suzuka in Japan - it is fantastic to drive and it is one of few tracks where you really feel what an F1 car is capable of, what the downforce is doing.
STARTING A LAP
For many years, a lap of Silverstone began at Copse. Now, the pits have moved to the other side of the track and the first corner is a re-shaped Abbey Curve.
It is a really fast corner, taken in seventh gear, and there is a bump at the apex that makes it extra tricky. Last year, when I scored a point for Toro Rosso, I could take it flat-out, but the best cars, like the Red Bulls, could also keep their DRS overtaking aid open.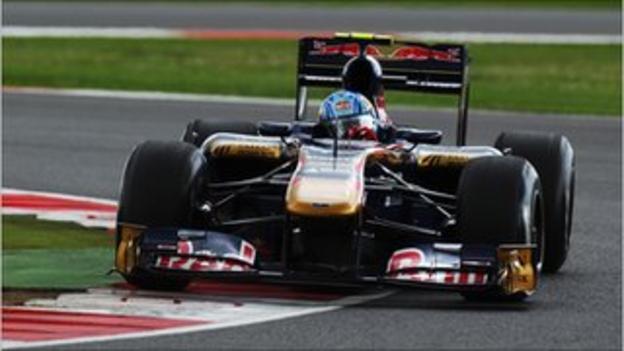 The exhaust-blown diffusers that gained teams such as Red Bull a lot of downforce have been banned this year, but I still think Abbey will be taken flat-out.
It is a very enjoyable corner and you have to get the apex exactly right because there is another fast kink - to the left this time - straight afterwards.
Then you're into the new section of slow corners, Village and the Loop, where you have to brake hard and there are overtaking possibilities.
The track is so wide there, and there are so many different lines around those very nice corners, which also have a bit of banking.
Through the flat-out left-hander at Aintree, you're then back into the old part of the track, with the left-hander at Brooklands and then the long right called Luffield.
Brooklands is a fourth-gear entry, and then you're down to third for Luffield, where the exit is very important because it is the start of a very long, fast section.
SILVERSTONE AT ITS BEST
Copse is a truly fantastic corner - in the best F1 cars you take it flat in seventh gear with the DRS open, so that's an apex speed of more than 180mph.
If you look at the circuit map, it seems unbelievable that the cars can go through there so fast - it's effectively a 90-degree corner. But it opens up a lot at the exit, which makes it much easier.
Copse, though, is just the start because after that it gets even more rewarding for the drivers in the Becketts section of swerves. The changes of direction are really intense, with high G-forces in sixth and seventh gears.
You need a little understeer in the car through there - where the front doesn't want to turn - as it's not a nice place to have oversteer, which is the feeling when the car wants to spin.
The first left-right-left is very fast, but you need to have a little lift into the second left-hander to make sure you're on the right line for the second right-hander, where you go down to fifth gear.
Although that corner is the slowest part of Becketts, it is very important because you exit onto the long Hangar Straight.
THE END OF THE LAP
Stowe is another fast, challenging corner. It is very wide and there are a number of different options for lines. Do you brake later and carry more speed in? Or earlier and get back on the power earlier? There are so many ways to do it.
After that it is Vale and Club, the two final corners. Vale is a left-right chicane and the entry is difficult because there is a big bump, which you have to respect otherwise you will lose the rear.
The right-handed part is all about traction on the exit as you're flat all the way through Club and onto the pit straight.
MARIA DE VILLOTA
I was shocked to hear of the accident suffered by Maria de Villota. I know her and her family very well. I still don't know the cause of the accident. There are so many rumours but I want to wait to see what really happened.
It's terribly sad. Maria is a fantastic person, as are her brothers and her father Emilio, who was one of Spain's first F1 drivers. She is a role model, especially for all the women who want to get into F1. So this is a very sad situation.
Thankfully, she is not in a life-threatening situation so we have to look at the positive side. We will see Maria again.
CELEBRATING SPAIN'S EURO 2012 SUCCESS
Like the rest of Spain, I have been celebrating the national team's victory in Euro 2012.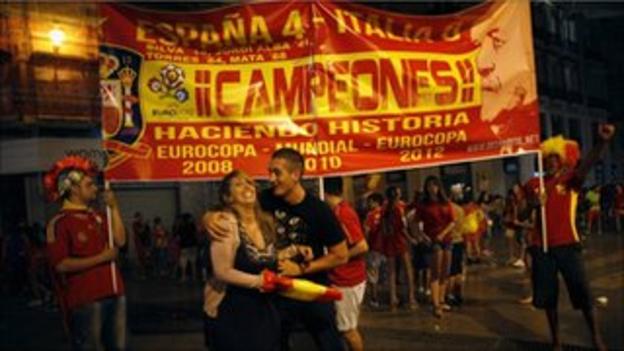 I don't really understand all the comments about Spain supposedly being boring. It's not like they have an advantage like more downforce or a better engine.
They have 11 players just like everyone else, and it's just down to a lot of hard work by the players and managers over many years. They deserved the title and hopefully they will now win the next World Cup as well!
It is an incredible time for Spanish sport, with the football team, Rafael Nadal and Fernando Alonso. Sadly, it is a tough time for Spanish society. We have sun, sport, and not much else at the moment!