Jenson Button still confident of challenging for F1 title

By Andrew Benson
Chief F1 writer
Last updated on .From the section Formula 1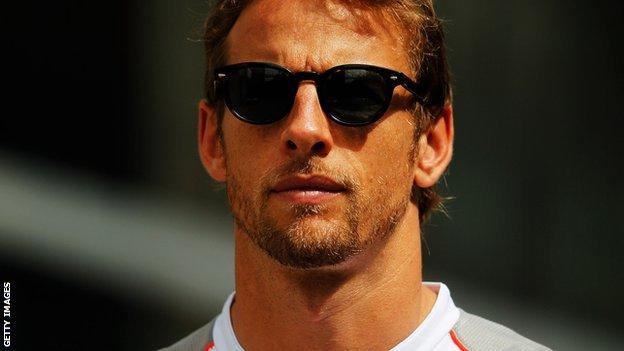 Jenson Button says he still has every chance of winning the F1 championship despite dropping to eighth place after a run of poor form.
The McLaren driver has scored only six points in the past five races and is 62 points behind the championship leader, Ferrari's Fernando Alonso.
Asked whether he was worried his title hopes were already over, Button said: "No, definitely not.
"It is 60 points but we see how quickly it turns around."
Button won the first race of the season in Australia, and was second in the third race in China, but since then he has had a terrible run, taking only a ninth and an eighth place.
But he said he was buoyed by the fact that the championship was so close this year - seven different drivers have won in the eight races so far, with only Alonso managing two wins.
That is in stark contrast to last year, when Red Bull's Sebastian Vettel arrived at Silverstone 77 points clear after seven wins and a second place in the first eight races.
Button said: "If it was one person streaking away in the lead like Seb then it would be a big chunk to get back.
"But if I win this race and the Ferrari is not on pace here, it's a lot of points in the bag."
Button's problems have been rooted in getting the tyres to work on his car, but he said he was confident he was getting on top of the problem.
And he said he expected McLaren to be more competitive at Silverstone this weekend, where they have some upgrades to their car, than they were in Valencia two weeks ago.
"We do have a few [new] bits aerodynamically, and mechanically there is some stuff that is very exciting for here," Button said.
"But even without the bits I think we would have had a pretty good car around here.
"Looking at the last race everyone was quite excited by how quick the Red Bull was.
"Their pace was phenomenal and they had a big aerodynamic package and it worked in low-speed corners, which is an area where it is very difficult to get the car working aerodynamically.
"But they have worked out a way of doing it and at low speed they had very good downforce.
"But that shouldn't matter to us here because it's a high-speed circuit and it's high speed where the downforce works for us, so we should be competitive."
Button's team-mate Lewis Hamilton is third in the championship, 23 points behind Alonso, after struggling for pace in Valencia and then crashing out in the closing stages after a collision with Williams driver Pastor Maldonado.
Hamilton said he was "very, very excited" to see whether the upgrades give McLaren the step forward they are expecting.
"Our car generally goes a little bit better on high-speed circuits than it does on low-speed circuits so fingers crossed it will be a little bit stronger this weekend," he said.
Alonso, who won in Valencia, is also expecting a strong performance from his Ferrari at Silverstone.
Vettel, meanwhile, played down his strong performance in Valencia, where he was running away with the race before retiring with alternator failure.
Some have suggested Red Bull's step forward in Valencia could mark the return to a period of domination for the team who have won the title for the past two years.
But Vettel said: "I would be very careful with that.
"We had a good race, everything seemed to work, we found the rhythm and could make a difference straight away, but this is a new track, different characteristics. We need to confirm it here."