British GP: Hamilton sets pace at soaking wet Silverstone

By Andrew Benson
Chief F1 writer at Silverstone
Last updated on .From the section Formula 1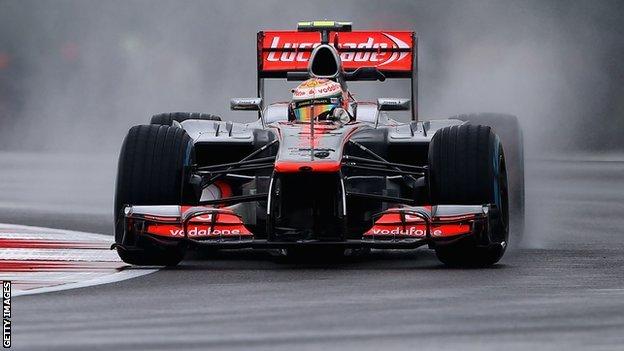 McLaren's Lewis Hamilton set the pace on a soaking first practice day at the British Grand Prix.
He headed the second session from Sauber's Kamui Kobayashi, as Lotus driver Romain Grosjean was fastest in similar conditions in the first.
Silverstone was hit by the heavy rain that caused flooding across the UK, and spectators suffered lengthy delays trying to get into the track.
Despite the difficult conditions, only Williams's Bruno Senna crashed badly.
The Brazilian, the nephew of the late legend Ayrton Senna, lost control in the fast Becketts section with 30 minutes of the second session remaining and had a heavy impact with the wall.
Late in the session, Ferrari's Fernando Alonso also had a spin, taking off his car's front wing in a light contact with the wall.
The world championship leader was on 'intermediate' tyres at the time - he was one of only a handful of drivers to try the tyres, designed for use in drying conditions, as well as the 'extreme' full wet-weather tyres.
The wing Alonso damaged was a new design brought by Ferrari to this race.
Hamilton set his time on the wet tyres and was 0.129 seconds clear of Kobayashi, also on the wet tyres.
"[Being fastest] doesn't make any difference. Tomorrow is what counts," said Hamilton.
"I don't mind rainy days. I grew up racing in this so I'm very much at home. "I had to push to feel if the car was comfortable and I'm quite happy with it."
Mercedes driver Michael Schumacher was third fastest with his team-mate Nico Rosberg fourth, ahead of Sauber's Sergio Perez and McLaren's Jenson Button.
McLaren admitted that the wet conditions might mean they were unable to run their planned developments for this race.
"There are some things that we can carry forward, and some things we may have to say it is too much of a risk," said technical director Paddy Lowe.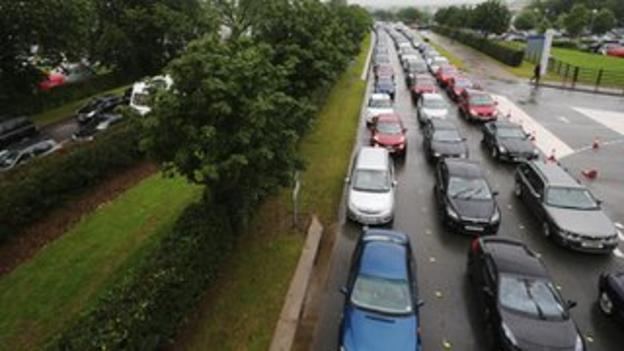 It was not only the F1 teams affected by the rain - the spectators trying to get into Silverstone to watch faced long delays.
Problems started not long after seven o'clock in the morning and midway through the second practice session there were still five-mile traffic queues leading into the track.
Silverstone blamed the heavy rain causing flooding in car parks that did not have a hard surface, but their emergency alternative traffic-management plans failed to prevent significant problems.
A Silverstone spokeswoman also confirmed that campers were being turned away from private campsites, with conditions in the vicinity of the circuit becoming increasingly worse.
"We know we've got a problem, we know it's serious," she said.
"The problem is that the campers are turning up at their campsites and being turned away because of the ground. The farmers who own the private campsites and our own official one - Silverstone Woodlands - are saying; 'We can't take any more, we're going to relocate you.'
"Local radio and Silverstone radio are putting that message out, to say 'if you haven't booked, don't turn up.'"
In both sessions, only nine drivers completed 10 or more laps. Alonso did not even set a time in the first session.
In the second session the track was empty for much of the first hour as teams preferred to save their limited supply of tyres for qualifying and the race because the wet weather is forecast to continue into the weekend.
Hamilton said: "I feel sorry for the fans because we're not going out and that's because we don't have enough tyres.
"The fans have come to watch cars go around, they have paid a lot of money and we should be going round and we can't because we don't have the tyres.
"It's a constructive criticism. We could do more for them on days like this."
BBC F1 technical analyst Gary Anderson summed up the quandary facing the teams in conditions where the cars are even harder to control than in the dry.
"If you go out and push too hard, you can damage the car," Anderson said. "If you don't go out, you don't learn anything."
The other issue is that the drivers each have only three sets of wet weather tyres for the entire weekend, and with rain forecast for both Saturday and Sunday they do not want to waste them in practice.
Red Bull's Mark Webber said: "The conditions are pretty dodgy to say the least, the track can't take an intermediate [tyre]. We don't want to do 1,000 laps today because the forecast looks pretty dodgy for the weekend and we need these tyres.
"The drainage is pretty good, but when we've had this amount of rain there's no track in the world is going to be able to cope with it.
"The track was getting reasonable at one stage, we were getting down into the [one minute] 56s, 57s, but the rain came down again and it was over."
Webber's team-mate Sebastian Vettel is hopeful that he and his fellow drivers have now seen the worst of the weather.
"It was difficult because if there is too much standing water we can't go out, we aquaplane pretty quickly. Bruno Senna had a big off and it shows how quickly it can happen," he said.
"They said Friday should be the worst day. Hopefully it gets a little bit better and we can get some running because if there is too much rain we cannot run at all.
"It was a shame for the fans sitting in the grandstand waiting for us to come out. It was a little bit of a waste because you can't really try anything."