British GP: Consistency not enough, says Fernando Alonso

By Andrew Benson
Chief F1 writer at Silverstone
Last updated on .From the section Formula 1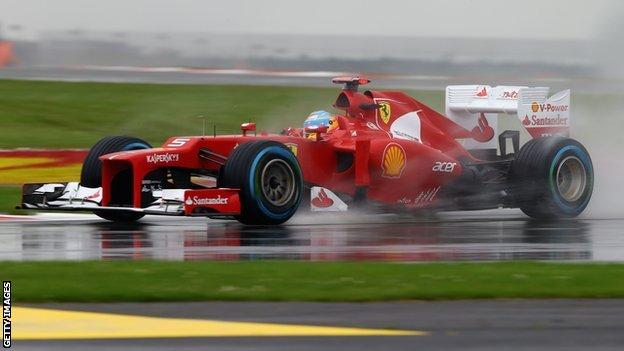 Ferrari's Fernando Alonso believes consistency will not be enough to win the title this season and that wins will ultimately be decisive.
"At the beginning, it is true there were seven wins from seven different drivers," the Spaniard said.
"But I think the second part will settle down and the top teams will dominate. We need to win more races."
Ferrari were uncompetitive at the start of the season, but the 30-year-old stayed in contention in the early races thanks to consistent points finishes and an unexpected victory in the wet in Malaysia.
Since the Spanish Grand Prix in May, Ferrari have been much more competitive and Alonso has taken a second, third, fifth and a win in the last four races.
Equally, Red Bull, world champions for the last two years, have now scored four pole positions in the last five races.
Alonso, who was speaking in an exclusive interview to be broadcast on BBC One on Sunday, said Ferrari could not rely on the list of different winners continuing to keep them in the championship hunt with a car that cannot qualify at the front.
"If we are not competitive enough, we will not see every race different winners," he said.
Alonso said he felt Red Bull had a better car than Ferrari, but that the Italian team were doing a good job of maximising their potential.
"We think from [the last race in] Valencia Red Bull have a little bit of an advantage in terms of performance," Alonso said.
"The package is everything, a car that is good in all the races, good in all conditions - hot, wet, dry, windy.
"In terms of that we have a competitive package and our strongest point is team experience and approach. Maybe Ferrari has this extra compared to other teams."
He conceded that Ferrari need to improve their car to remain in title contention.
"[It was a] nice surprise how the team developed the car and how we closed the gap which was, in Australia, 1.6 seconds from pole," Alonso said.
"Now we are one of the fastest, but we are getting very close and we need to recover just the last two or three tenths and from that recovery every win is more emotional."
Alonso arrived in Silverstone on the back of an impressive victory in Valencia from 11th on the grid.
He was close to tears on the podium and in Silverstone he spoke about why the race meant so much to him.
"[It's a] very difficult feeling to describe winning at home and trying to enjoy that moment," he said.
"When I won in Valencia I realised this would be in my mind for many years so I tried to feel all the emotions from the team, the fans, everybody.
"Plus Valencia has been very difficult for me - [I had] one of my most difficult races in 2009, only two or three days after my grandmother died. So it was good to win at home in front of everybody."
Alonso also spoke about the impending decision Ferrari will have to make on whether Felipe Massa stays on as his team-mate next year or take on another driver, perhaps Red Bull's Mark Webber.
He said it was important his team-mate was someone he could get on with.
"If [the] team decide to keep Felipe for longer," Alonso said, "I will be very happy because the relationship has been very good. If the team decide to change and they ask my option I will tell [it] for sure.
"[It is] good to work in a friendly way. [If not], you cannot be in the meetings or in Barcelona for the winter test, where you have only one car, you drive one day, your team-mate the next. You need to trust and that the improvements he will find will suit you the next day."