Lewis Hamilton's McLaren future: Martin Whitmarsh is optimistic

By Andrew Benson
Chief F1 writer at Silverstone
Last updated on .From the section Formula 1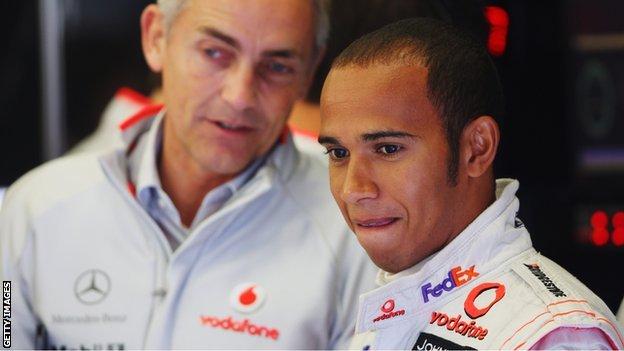 McLaren's recent struggles will not decide if Lewis Hamilton stays or leaves the Formula 1 outfit, insists team boss Martin Whitmarsh.
Hamilton, who finished a disappointing eighth at the British Grand Prix, is out of contract at the end of 2012.
Whitmarsh thinks the ex-world champion, who is now 37 points behind leader Fernando Alonso, will sign a new deal.
Asked if McLaren's current form would influence Hamilton, Whitmarsh said: "No, I think he's smarter than that."
He added: "He's got to want to stay in this team, which I believe he does."
Hamilton, who won the world title in 2008, lies fourth in the championship, behind Ferrari's Alonso and Red Bull duo Mark Webber and Sebastian Vettel.
The 27-year-old Briton took his first victory of the season in Canada four weeks ago, but the McLaren has been uncompetitive since, at Valencia and now Silverstone.
Whitmarsh believes the team's fortunes will improve again.
"He [Hamilton] knows that, I know that and we're disciplined and battle-hardened enough these days to know that," said Whitmarsh.
"You've got to take stock, learn from these weekends. Sometimes you can learn more from these than the successful ones."
McLaren's performance at the British Grand Prix was surprisingly poor.
Hamilton was on pole position by more than half a second at May's Spanish Grand Prix, held on a track with very similar characteristics to Silverstone.
As a result, the team expected to battle for victory, but they struggled in qualifying and Hamilton was never in the fight for the win.
Behind the scenes, Hamilton betrayed signs of frustration. After qualifying eighth in the wet in conditions in which he often excels, he is understood to have suggested he had had enough of the team's struggles.
That came two days after he had told the British newspapers that he had made up his mind which team he wanted to drive for next year and was ready to do a deal.
Hamilton's options appear limited should he choose to leave McLaren.
Webber has had talks with Ferrari and if he moves there, it would potentially open up a seat for Hamilton at Red Bull. However, the Australian, who won the British Grand Prix on Sunday, is understood to want to stay where he is.
"We have a great relationship with Mark," said Red Bull team boss Christian Horner. "I think he wants to be in the team next year. During the summer, we'll sit down and talk about the future."
He added: "Mark's given me every indication that he's very happy here and you can see that in his driving."
If Webber does stay at Red Bull, Hamilton's only other choices seem to be to remain with McLaren or move to Mercedes.
Ferrari are not an option as Alonso is understood to have vetoed the idea of having Hamilton as his team-mate.
Mercedes are known to be interested and could have a vacancy if seven-time champion Michael Schumacher moves on.
The 43-year-old German, who is also out of contract at the end of the season, says he needs more time to make a decision.
"When it comes to the right moment, the team and Michael will sit down and jointly decide," said Mercedes team boss Ross Brawn.
"He enjoys himself, but we haven't discussed it and it is some time until we've agreed to discuss it."