Mark Webber: My British GP win, new Red Bull deal & Wimbledon

By Mark Webber
Red Bull driver
Last updated on .From the section Formula 1
It has been a pretty good week. I won the British Grand Prix on Sunday and then signed a new contract to continue with Red Bull Racing in 2013.
I pretty much told Red Bull owner Dietrich Mateschitz and team principal Christian Horner two or three years ago that I would finish my career with Red Bull.
I'm sure everyone understands the lure of racing for Ferrari, but in the end there were just too many pros to staying at Red Bull Racing - it was as simple as that.
I've been there since 2007, just two years after the team was formed, and we have built a fantastic team.
We've won the last two drivers' and constructors' championships and we're right in the fight again this year.
It's very hard to turn your back on that sort of performance.
The fact that I am trying to win the championship this year was also a consideration - it would have been that bit harder to keep the momentum going if I was moving to a rival team.
That was a factor, but it was certainly not the biggest one.
Because I'm 36 this summer, people are always asking me when I'm going to retire. But I'm not thinking about that at all.
The contract is just for one year, but I'm looking to stay in F1 for longer than that.
I watched an interview with Ryan Giggs the other day and he was saying that you relax and enjoy it a bit more as you get older.
You know you're closer to the end than the beginning, so you want to make the most of the situation you're in.
You try to do that bit more, you perform better because you're that bit wiser and you get better results, so you end up staying longer anyway.
It's an immensely challenging job trying to get the best out of a Formula 1 car and I'm competing with the best drivers in the world.
WINNING AT SILVERSTONE
It doesn't get much better than what happened on Sunday - how we won and who we beat. I have a lot of respect for Fernando Alonso.
I said to a friend the other day: "That was a nice podium shot from Silverstone - with Fernando on the right and Sebastian Vettel on the left."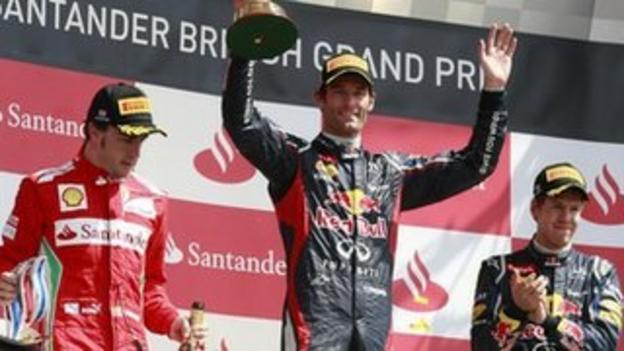 How do you replace that when you're not racing any more? Hopefully, I won't have to find an answer to that question for a while.
The changeable weather made the British Grand Prix a challenging weekend for the teams, drivers and fans, and winning it was especially satisfying.
We went into the race with many more unknowns than usual and it was bizarre how it unfolded. If you were a betting man, before the second pit stops you'd have said Ferrari had done everything right.
I would never have thought Fernando would struggle so much on the 'soft' tyre at the end of the race when we were on the 'hard' tyre.
When my engineer Ciaron Pilbeam said to me on the radio that Fernando's pace wasn't great, I was thinking: 'Aw, he's just giving it an easy time, if I push a bit more, he'll go'. But he didn't.
Unusually for 2012, it was a race where balance was more important than managing the tyres.
There were still problems with the rear tyres towards the end of the stints, but it wasn't anywhere near as bad as it is at other tracks.
It was quite an aggressive two-stop race. We weren't going ballistic flat-out but it was a pretty tasty race pace-wise.
I'm not a big one for hangovers, so I took it easy at the party on Sunday night and now I'm ready for Hockenheim next week.
SALUTING AN ALL-TIME GREAT
I'm a big tennis fan and Wimbledon was going to be a good-news final whatever happened.
If Andy Murray managed to pull it off, it would have been a phenomenal effort given who he had to beat.
Roger Federer has had a phenomenal career to match Pete Sampras in winning seven Wimbledon singles titles.
Federer has been mentioned in the same breath as Pele and Muhammad Ali. For me, Ali will always be on his own, but Federer is a pretty classy customer in the way he carries himself.
What I also like about him is that he is so deceptive.
He could do a passable impression of an accountant, but when it comes to doing the job on the court, he knows how to rip someone's throat out when he needs to.
He goes for the jugular, which is what he did with Murray. He smelt some blood and he went for it.
The emotion Murray showed at the end is a little insight into how much top sportsmen put into it.
He's had a cauldron of emotion of people wanting him to do well over that period and it came to a head in the last few hours of the fortnight.
The circumstances just grabbed him a bit, which is good.
People assume we're all supposed to be mega with the media. Andy has his style. He's one hell of a tennis player and we'll see how he goes in the future.