Maria de Villota: Car 'not at fault' over Marussia test crash
Last updated on .From the section Formula 1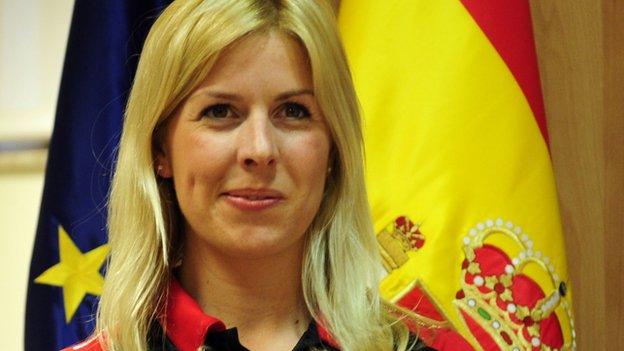 Marussia says its car was not at fault for a crash which left test driver Maria de Villotta seriously injured.
The 32-year-old earlier this month while testing, having two operations in hospital and losing her right eye.
Marussia team principal John Booth said: "We are satisfied the findings of our internal investigation exclude the car as a factor in the accident."
The Spanish driver is reported to have made a "remarkable" recovery.
De Villota was injured on 3 July during a straight-line test at the Cambridgeshire airfield in which she was making her testing debut for Marussia and driving an F1 car for the fourth time in her career.
She sustained her injuries after her car "suddenly accelerated" into the back of the support lorry, according to witnesses.
Marussia says it carried out a detailed analysis of the accident, and an external forensic investigation was also conducted. The results have been passed on to the Health and Safety Executive.
"This has been a necessarily thorough process in order to understand the cause of the accident," said Booth.
"We have now concluded our investigatory work and can again focus on the priority, which continues to be Maria's wellbeing. In that regard, we continue to support Maria and the De Villota family in any way we can."
Marussia says its initial analysis after the crash had shown there were no faults with its cars ahead of that weekend's British Grand Prix.
"Having carefully examined all the data and supplementary information available at that time, the team were satisfied that there were no such car-related issues and cleared its chassis for race weekend participation," said a statement.