Lewis Hamilton says future will depend on McLaren car

By Andrew Benson
Chief F1 writer
Last updated on .From the section Formula 1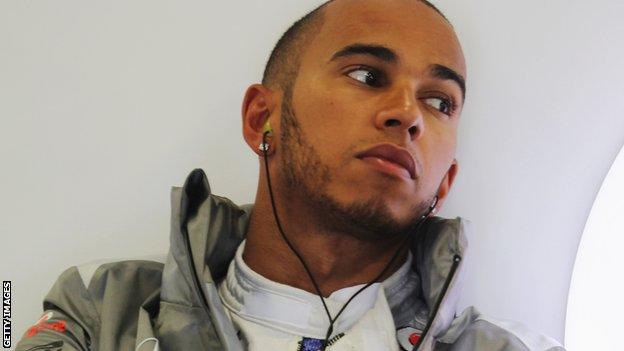 Lewis Hamilton says a decision on his future will depend on McLaren's ability to deliver him a title-winning car.
He said: "There are a lot of things to take into account. These people have supported me; they got me into F1.
"But I want to win. I'm not that young any more so I want to make sure that whatever I do I make the right decision so I maximise my career."
Hamilton, 27, has had a frustrating season at McLaren so far this year.
The team started 2012 with the fastest car - the first time they have done so for some years.
But a series of operational problems have blunted Hamilton's championship charge and they have slipped from the pace in the last two races.
Hamilton, who was talking in an interview with Russia's R-Sport agency, said: "I've been ready all year to win. We should have won a lot more races than we have, but there's many more races to go. We still have a lot more chances to get some wins, and I think it's possible.
"Up until now we've not developed as fast as other people. Other people have brought some more upgrades in the past than we have, but we have a big upgrade coming for the next race, so let's hope that it does the job and gets us in a fighting position."
He added that he would not let such short-term problems affect his decision.
Hamilton said: "To be honest, you have to base your decisions on much, much longer than such a short period of time.
"Only half a year cannot decide six years of partnership, or actually 13 years of partnership. I've been with them since I was 13, so it's 14 years, so it's much more than these small details. It's a much, much bigger picture."
He said he would like to settle his future over the month-long summer break in August.
"We haven't sat down and discussed anything yet but I'm sure over the summer break it would be nice to get something in place," Hamilton said.
"That would be a time when we can be more relaxed and make the most sensible decision for the future."
Hamilton's options are limited. He has been talking to Red Bull, Mercedes and Ferrari, but only Mercedes appears to be a viable option if he was to leave McLaren.
Mark Webber re-signed last week for another year at Red Bull, where Sebastian Vettel is under contract.
And although Felipe Massa's future at Ferrari is in doubt, Fernando Alonso is said to have vetoed Hamilton as his team-mate.
Equally, Ferrari want a driver for only one year as they hope to attract Vettel for 2014 - they have a non-binding pre-contract with the German for that season.
Vettel's contract with Red Bull runs to the end of 2014 but the team's adviser Helmut Marko has said it has performance clauses - the details of which are unclear - that could leave him free to leave at the end of next year.
Even Mercedes is not necessarily open to Hamilton. Nico Rosberg is under contract and the team say they have yet to make a decision on the future of Michael Schumacher.
The German legend is 44 in January and has been lacklustre for much of the time since he returned to F1 in 2010, but he has showed an upturn in form this season.
Team boss Ross Brawn said at the British Grand Prix: "When it comes to the right moment, the team and Michael will sit down the jointly decide. He enjoys himself but we haven't discussed it, and it is some time until we've agreed to discuss it."