Lewis Hamilton confident of title challenge despite slump in form

By Andrew Benson
Chief F1 writer at Hockenheim
Last updated on .From the section Formula 1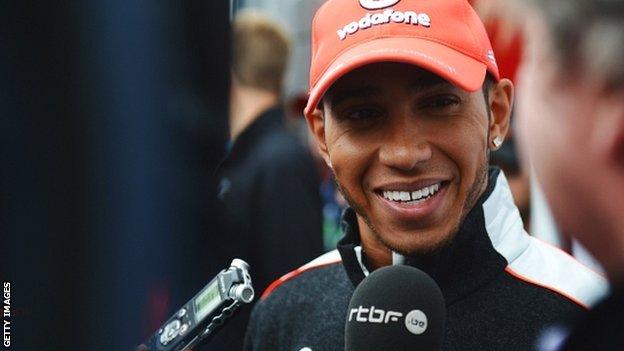 Lewis Hamilton says he is still confident he can win the World Championship this season despite McLaren's slump in form.
Hamilton is 37 points behind the leader Fernando Alonso of Ferrari after two poor races in Valencia and Silverstone.
"I definitely feel I can do it," said Hamilton. "Of course we should have won many, many more races this year but we are only at the 10th grand prix.
"We still have so far to go. If we keep pushing hopefully we'll be rewarded."
McLaren are bringing a significant upgrade to their car to this weekend's German Grand Prix, including redesigned sidepods, which they hope will get the car back on the pace after slipping behind Ferrari and Red Bull in recent races.
Asked if he was concerned about his position in the championship, Hamilton said: "I feel less concerned today because the team have been under a great amount of pressure to bring upgrades and we've hopefully got some upgrades this weekend that I hope will put us back in the fight. They will definitely make the car better than it was."
Hamilton is the focus of the Hockenheim paddock this weekend as he is the only one of the title contenders not to have firmed up where he will drive next season.
Alonso is at Ferrari until 2016 and Mark Webber and Sebastian Vettel, who are second and third in the championship, are continuing with Red Bull.
Hamilton hinted on Thursday that he was likely to stay on at McLaren, for whom he has driven since his debut in 2007, and who have supported him through racing since he was 13.
"When you're in this position - and this is the first time [for me], you have to do your due diligence, look at the whole grid, all your options and all your plans and not rush into things, because some of the worst decisions are generally ones that are rushed," he said.
"I have a lot of faith in this team, it's like a family, I have been here since I was 13-years-old. Anything different would feel very abnormal."
He admitted he felt he should have had more success in his career, but added that while McLaren have had a "tough 10, 15 years", he was hopeful "at some stage it is our time".
"You have to remain hopeful, you have to believe there is a plan," he added. "I believe God has a plan for me. I don't know what it is.
"There are lots of things that come round and I think: 'What the hell is going on?'
"But I'm massively blessed in my life. I am enjoying life, I am enjoying the experiences, even the not so good ones, because I feel myself growing, I feel myself maturing. I feel myself make bad decisions and then improve and make stronger ones."
Asked if he felt God's plan included him staying at McLaren beyond the end of this season, Hamilton laughed and said: "I don't know. I ask him every day and he has not told me yet. You'll know when I do."
There are few options for Hamilton. Mercedes potentially has a seat open if Michael Schumacher does not continue, and there could be an opening at Lotus, which is less financially secure than the top four teams.
Lotus have been competitive all season and, asked if he would take a pay cut to drive what may be a faster car, Hamilton said: "I have to be careful how I answer this. It could affect my bargaining power. It goes without saying for me that the number one priority is the car."