German GP: Sebastian Vettel calls Lewis Hamilton stupid

By Andrew Benson
Chief F1 writer at Hockenheim
Last updated on .From the section Formula 1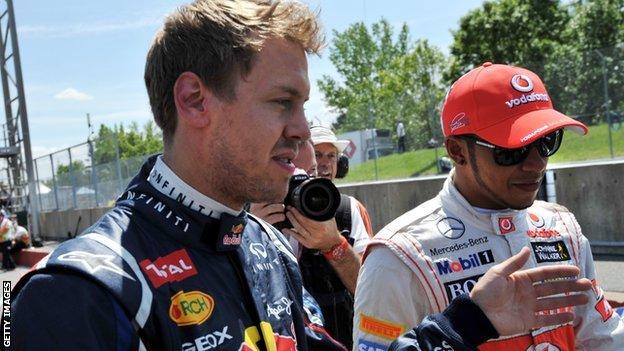 Red Bull's Sebastian Vettel called McLaren driver Lewis Hamilton "stupid" for racing him in Germany when he was a lap behind.
Hamilton, delayed by an early puncture, was trying to make up ground and passed Vettel as the German was racing with eventual winner Fernando Alonso.
Vettel said: "I don't see the point in him trying to race us. It is a bit stupid to race the leaders."
Vettel said it caused him temporarily to lose second place to Jenson Button.
The world champion was passed by the Englishman at the second pit stops, but regained the position two laps from the end, although he is under investigation by the stewards for a potentially illegal overtake.
"That potentially lost me the position to Jenson, I pitted two or three laps after that," Vettel said.
He added: "I don't think we need a different rule, if you want to go quick and you are a lap down and there is no chance to win the race, you should respect it and use common sense. I didn't expect him to attack."
McLaren team boss Martin Whitmarsh said: "Racing drivers race. If that's stupid, I don't know. [Lewis] was quicker. He overtook and he pulled away, I'm not sure of the stupidity in that but that's for others to comment on."
Hamilton then closed on Alonso, but the Spaniard did not let him get close enough to pass.
"I didn't feel any risk," Alonso said.
"I knew if Lewis was close enough and using the DRS [overtaking aid] and trying to overtake and going for it, I had no problems to leave the space.
"I knew he was not in the race, we did not want to risk anything.
"But for me it was a good to have Hamilton between me and Sebastian because we were approaching the pit stop time, and it means Lewis is one second behind me and Sebastian one to 1.5 seconds behind him. so Sebastian is 2.5 second behind me. So I tried to keep Lewis behind."
Red Bull team boss Christian Horner added: "If you look at the rules, I don't think there is anything to say a car can't unlap itself.
"What was frustrating for us is that it cost us a second and unfortunately he didn't unlap himself from Fernando as well.
"A driver's emotions are going to be running high and its unusual. Usually when you lap a car it doesn't drive back past you.
"It was an unusual situation in that Lewis was on fresh tyres, he was a lap down. In Sebastian's opinion, it affected his race. It did affect his race.
"And of course that's frustrating if it doesn't affect two leaders identically but within the rules he did nothing wrong. Arguably he helped his team-mate."