German GP: Sergio Perez delighted with Sauber pace
Last updated on .From the section Formula 1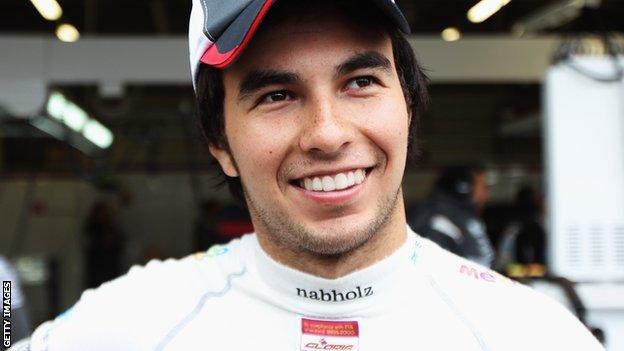 Sauber's Sergio Perez believes he had the pace to challenge for a third career podium at the German Grand Prix.
The Mexican qualified 12th but a penalty for impeding meant he lined up 17th on the grid.
An early problem with his car also did not help matters, but Perez shrugged off the issue to storm into the points and finish sixth.
"I think with the pace we showed, we could have fought for a podium," said Perez.
He continued: "I had a problem in my first stint, I had to stop early because of a problem with the left of the car. I felt a puncture but the team didn't know. We need to analyse what happened.
"But it was a great result for the whole team after such a bad day on Saturday."
Perez's team-mate Kamui Kobayashi finished fifth to cap a fine grand prix for Sauber, but was promoted to fourth after Sebastian Vettel was penalised 20 seconds for an illegal pass on Jenson Button.
"We struggled in qualifying, but I am glad to get points," said the Japanese driver.
"We were confident for a dry race and that we would have the pace for those conditions. I think I had a great race. I really enjoyed it."
Mercedes driver Michael Schumacher gave himself a great chance of a podium finish at his home race by qualifying third, but was unable to keep up the pace with the front-runners as he dropped down the field.
"There are nicer ways to finish a home race than falling back from third to seventh place," said Schumacher.
"I squeezed everything I could out of the car but, unfortunately, that's everything we could manage."
He added, cryptically: "We take the result and see what happens in future. I think we might see some interesting happenings in the future that does not concern just one car but several cars. It will be interesting."
Nico Rosberg started 21st on the grid but picked up a point for Mercedes by crossing the line in 10th place.
"It feels OK to have scored one point after such a bad qualifying and starting right at the back," he said.
"We had a good strategy and I had great fun out there at times overtaking so many people to move up to 10th place."
Kimi Raikkonen was promoted to third after Vettel's punishment, but did not have the chance to celebrate on the podium as the stewards conducted their investigation.
Nevertheless, the Lotus driver felt any chance of challenging for a higher finish was prevented by a relatively disappointing qualifying session in the wet.
"Maybe if we had found a bit more pace in the wet on Saturday we could have started higher and pushed the leaders, but it is what it is," said Raikkonen.
"For sure we were hoping for a bit better here, but the car worked well all through the race and we still brought home some good points for the team, so there are some positives to take to the next race."
Force India enjoyed their best qualifying performance of the season as Nico Hulkenberg secured fourth place on the grid, with Paul di Resta lining up ninth.
They were both unable to build on that during the race, though, as Hulkenberg took ninth while Di Resta finished 11th.
"We always knew it was going to be tough to hang on to fourth place because we did not look especially strong in the dry conditions on Saturday morning," said Hulkenberg.
"So it's good to come away with some points, but I was certainly hoping for a bit more from my home race."
Di Resta shared his team-mate's opinion, adding: "It was a bit mixed for me. I really struggled, certainly at the beginning. I was strong at the beginning and end of stints but not in the middle for some reason.
"We will go away from here certainly having to do a bit of work and aim to do better. Hopefully in Hungary we will be able to get on top of things a bit better."