F1 seeks computer rule change on Red Bull

By Andrew Benson
Chief F1 writer
Last updated on .From the section Formula 1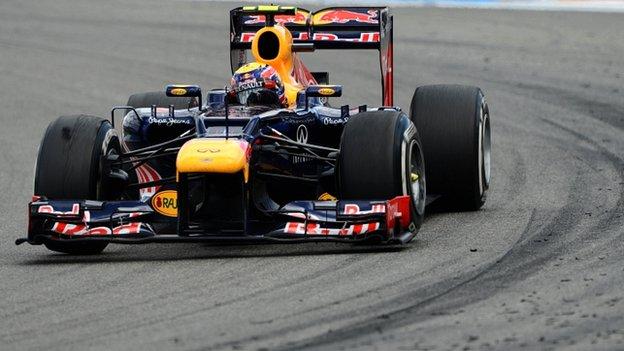 Formula 1 bosses are working to introduce a rule change to outlaw controversial engine settings on the Red Bull.
Red Bull were cleared by race stewards after accusations by governing body the FIA of running illegal engine settings.
The FIA is trying to produce a rule clarification in time for this weekend's Hungarian Grand Prix.
But it wants to ensure any rule change does not lead to other problems and no decision has yet been made on whether that will be possible.
It is unlikely there will be a decision before the end of Wednesday.
The row revolves around an immensely complicated issue to do with the computer settings - so-called maps - that control the amount of torque delivered by the engine in various conditions.
The FIA's concern is that Red Bull and engine manufacturer Renault are using reduced torque settings for a given engine speed. These act as a form of traction control, limiting wheelspin out of corners.
Rival teams believe that Red Bull's actions also allow them to make more effective use of the exhaust gases for aerodynamic effect, allowing the exhausts to pump gases over aerodynamically sensitive parts more than should be acceptable under rule changes introduced for this season.
Governing body the FIA found that Red Bull's engine was delivering less torque at full throttle in the mid-range of the engine's rev band in Germany than it had at the preceding British Grand Prix.
They said this was a breach of article 5.5.3 of the technical regulations, which states that the "maximum accelerator travel position must correspond to an engine torque demand equal to or greater than the maximum engine torque at the measured engine speed".
The verdict on Sunday said: "While the stewards do not accept all the arguments of the team, they however conclude that as the regulation is written the map presented does not breach article 5.5.3 of the technical regulations."
The idea of the rule is to prevent the engine delivering less power to the wheels than it can do, as doing so is a form of traction control, which is banned.
However, teams are allowed to change their engine maps from race to race - and Red Bull were cleared because there was no definition of how big these changes could be before they were not allowed.
The FIA is aiming to close that loophole.
If it succeeds, it will be a simple matter for Red Bull to switch back to an earlier map than the one they used in Germany.