Sebastian Vettel was in the wrong - Jaime Alguersuari column

By Jaime Alguersuari
BBC Radio 5 live analyst
Last updated on .From the section Formula 1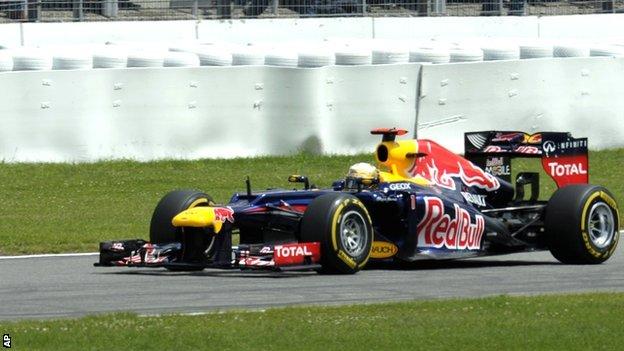 Sebastian Vettel was involved in two controversial incidents during the - and in both of them he was in the wrong.
The first was when Lewis Hamilton unlapped himself on the Red Bull, provoking Vettel to wave his hand at Hamilton during the race and call him "stupid" afterwards.
Hamilton was absolutely right to do what he did.
It is true he had nothing to do with the battle for the race win, in which Vettel was trying to challenge Ferrari's Fernando Alonso.
But if a racing driver is trying to make up some ground he has lost, get past the leaders in that way and get himself back into the race again, maybe score some points, why shouldn't he?
Hamilton's decision was right. He was very unlucky to get a puncture at the beginning of the race and he was entitled to try to recover. You never know what is going to unfold in a grand prix and a driver has to do the best he can.
Hamilton was in a McLaren, he was faster than Vettel at the time, he had fresher tyres, and he did not put Vettel at risk in any way.
It was a completely legal move. Obviously, it was not the best thing for Vettel, who was trying to stay close to Alonso, but it did not change anything in the outcome of the race.
I think Vettel was a bit anxious in Germany. It was his home grand prix, he wanted to win and he didn't quite have the pace to challenge Alonso, who was defending very well.
Vettel appeared to be in too much of a hurry to win. He was pushing a lot, making some mistakes and the manoeuvre he did on Hamilton's team-mate Jenson Button was another example.
Button had "undercut" Vettel and taken second place by making his final pit stop a lap earlier, and it was as if Vettel did not want to believe Button could finish in front of him.
Vettel closed in on Button and overtook him around the outside of the hairpin on the penultimate lap - but he went completely off the track on the exit of the corner to do it.
There are track limits and Vettel did not respect them. The move was not legal and the penalty, which demoted him to fifth place, was fair.
But it shows how much he wanted to force the situation - and doing so cost him some points.
Normally, Vettel's style is to be calm and smooth, but in Germany he looked impatient.
He has to understand that it is about getting points for the championship.
Look at the way Alonso reacted when Ferrari misunderstood the tyres and got their strategy a bit wrong in Canada and at Silverstone. He didn't crash or make mistakes - he took a fifth place and a second.
You need to know when it is your time and when it is not - and Alonso's understanding of that is why he is leading the championship.
He is consistent and he knows how to deal with pressure and how important it is to score regularly, especially now F1 is so tight.
Alonso's race was a complete contrast to Vettel's. He was under a lot of pressure, but he knew exactly where he needed to attack and how to defend and he drove fantastically to deal with that.
And Ferrari did a brilliant job on strategy - they were always able to react to the intentions of the other drivers to try to "undercut" them at the pit stops.
It was very close, but the driver and the team did a super job. It was a great win and well deserved.
RED BULL'S MYSTERY PACE LOSS
Formula 1 is never easy to understand completely accurately because it is so complicated and events in Germany, in the wake of what happened in the races before that, are a perfect example.
In Valencia two races ago, Vettel was completely dominant until retiring with an alternator failure - he was 1.5 seconds-per-lap faster than anyone else. It was like 2011 all over again.
It was enormously impressive and I thought Red Bull had found the key solution to gaining back a lot of rear downforce - which the teams have lost this year as a result of the ban on exhaust-blown diffusers, last year's dominant technology.
You looked at Valencia and thought Red Bull were going to dominate in the next race at Silverstone as well. Vettel's team-mate Mark Webber did win there, but the advantage from Valencia had disappeared.
At Hockenheim last weekend, it was more or less the same as at Silverstone. The pace of the Red Bull and Ferrari was very similar.
Then, on Sunday morning, there was a big mess surrounding Red Bull's engine mapping. Governing body the FIA said it was in contravention of the rules and then the stewards cleared Red Bull, but also said they did "not accept all the arguments of the team".
I don't know what Red Bull are doing, but the FIA looked at it in Hockenheim and said it was legal.
Fine - Red Bull have been more intelligent than the other teams because they have done something within the rules that no-one else has and, by the look of it, it is benefiting them.
But the speed advantage they had in Valencia has disappeared and this is confusing because in F1 you just don't gain 1.5secs from one race to another, and you don't lose it either.
I have no idea why that happened and we will probably never know, but it is something to bear in mind.