Sebastian Vettel says rule change won't affect Red Bull
Last updated on .From the section Formula 1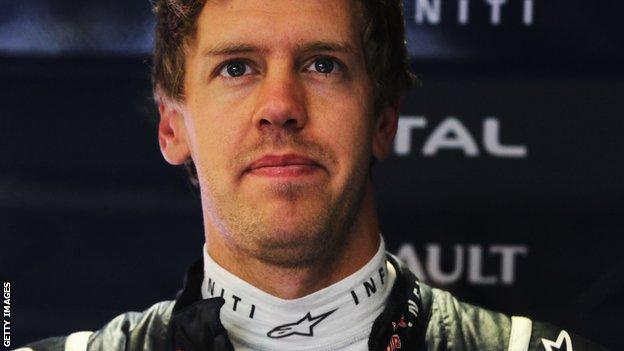 Sebastian Vettel says Red Bull will not be significantly affected by a rule change banning a controversial engine setting used by them at the last race.
A new rule has been issued ahead of Sunday's Hungarian GP to prevent Red Bull running specific settings aimed at improving cornering performance.
Vettel said: "It's not as if the car doesn't work any more. I'm quite confident nothing will change.
"There is probably more fuss outside the car than the difference is inside."
Pressed on whether the changes would make no difference at all, he said: "I wouldn't say that. What we had in the car in Hockenheim we decided to race because we believed it was quickest.
"It is a little bit different for here. It is hard to give you, I don't know, 0.2secs, 0.05secs, nothing. We can't measure [the difference] either."
Vettel's team-mate Mark Webber added: "[The difference will be] very, very small, I would say. The guys haven't really even spoken to me much about it. It seems pretty tame on our side, so we'll just get on with it."
The rule change restricts the amount teams can change the torque - or pushing force - of the engine from race to race.
Governing body the FIA was concerned that Renault were doing this to enhance the driveability - and therefore performance - of the engine in a fashion that attempted to go some way towards traction control.
And rival teams felt that the maps also enhanced the degree to which exhausts could be used for aerodynamic effect, which has been severely restricted this year.
But Renault said the engine "is in no way being used as a driver aid or traction control" and added that the effect of exhausts on aerodynamics this year was "incidental".
The controversy over engine settings was one of three in which Vettel found himself embroiled at the German Grand Prix.
The others were calling McLaren driver Lewis Hamilton's actions "stupid" for unlapping himself on Vettel during the race and interfering with the lead battle, and then being demoted from second to fifth for overtaking Hamilton's team-mate Jenson Button by going off the track.
After the race in Germany, Vettel had said of Hamilton: "That was not nice of him. I don't see the point why he's trying to race us.
"If he wants to go fast he can drop back, find a gap and go fast there. But it's a bit stupid to disturb the leaders. He was a lap down so I don't see the point anyways. I think that potentially lost us the position to Jenson."
But after arriving in Hungary, Vettel denied calling Hamilton stupid and blamed the media, saying journalists had misheard him.
"If I say after the race that I thought it was unnecessary and then it gets quoted that I said he is stupid, it's quite disappointing because sometimes I have a mouth, I say a couple of words, you have ears, and in that process it seems mistakes sometimes happen," Vettel said.
"If you look at the rules, it's clear you are allowed to do it [unlap yourself]. I said it was unnecessary.
"I was hunting Fernando, it was a couple of laps to the stop, it didn't help me, it probably helped Jenson, but that's racing.
"I'm not complaining. I said it was unnecessary from a racing point of view to distract the leaders no matter who it was, and that's it."