Lewis Hamilton admits he can't afford many more bad results

By Andrew Benson
Chief F1 writer
Last updated on .From the section Formula 1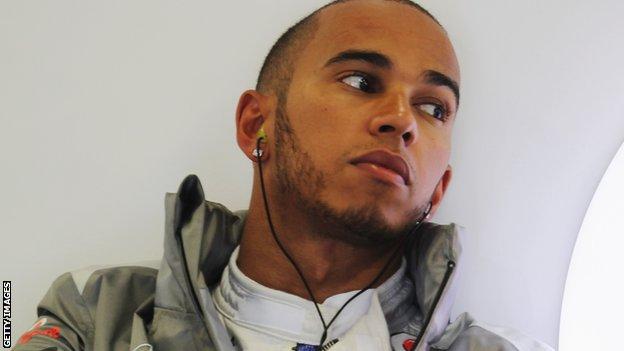 Lewis Hamilton has admitted he cannot afford many more bad results if he is to retain any hopes of winning this year's world championship.
The McLaren driver is 64 points off the lead, held by Ferrari's Fernando Alonso, with 10 races remaining.
Hamilton said retiring from Sunday's German race was "as big a dent as you can take".
He added: "You can only take so many dents, especially when the guy leading has finished every race in the points."
McLaren had two poor races in Valencia and Silverstone, with Hamilton retiring and finishing eighth, after his victory in Canada last month.
But Hamilton is hopeful McLaren will be competitive at this weekend's Hungarian Grand Prix following an upgrade that proved effective in Germany and that view was backed up by team-mate Jenson Button, who was second to Alonso at Hockenheim.
"There are still some areas where we are weak compared to the Ferrari and Red Bull," Button said. "I got to look at their cars quite a lot at Hockenheim but there are some areas where we are stronger also.
"We've got to the position where they're a little quicker here, and we're a bit quicker there. It's a much better position to be in."
Alonso is the only man to win three races this season, in which he has displayed a combination of consistency and skill unmatched by any rival, despite driving a car that has never been the out-and-out fastest in dry qualifying.
But the Spaniard insists that it is far too early to start thinking about winning a third title.
He said: "We are in a good position in terms of the points we achieved in the first half of the season, in the first 10 races, but we are only half [way through the season].
"There remain another 10 important races with the same possibilities for everybody.
"The distance between the top five, top six is not a distance or a gap that is impossible to recover. You just need one good race or two good races and you are up there.
"So, we need to keep the concentration, try to keep maximising what we have in our hands every weekend - sometimes we know that can be a podium, sometimes maybe it's a fifth position, sometimes a seventh.
"But we cannot afford to make any mistakes or anything that we will regret."
Alonso, who won back-to-back championships in 2005-06, said that if he did win what would be his third world title, it would mean an enormous amount.
"When we finished Brazil in 2006 it was a dream for me to [even think to] win three World Championships in my career," he said.
"If it's this year, in two years time or in six years time, I don't know but the third one will be very important for me.
"To have the same as Ayrton [Senna] had - three world championships - he was my idol or my reference when I was in go-karts. And some big names, [Niki] Lauda etc, so three is a pretty good number which I always dream of, and hopefully [will] arrive sooner rather than later."