Sebastian Vettel and Mark Webber unhappy with Hungary pace
Last updated on .From the section Formula 1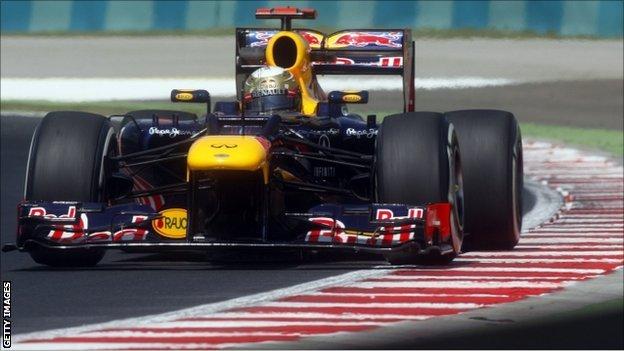 Red Bull drivers Sebastian Vettel and Mark Webber admitted they were not happy with their cars in Friday practice at the Hungarian Grand Prix.
Vettel, who was eighth fastest, said: "There is room for improvement."
He said the effect of the restriction on engine mapping changes was "much less than people expect".
But he admitted that the team would have preferred to use the engine programme they had at the previous race in Germany last weekend, but which has now been ruled inadmissible.
He said: "If we had the choice, of course we would go back to what we had in Hockenheim. It's difficult as well for us to measure [how much difference it makes]."
"There is a lot of talk but if you knew what was going on in the background then you wouldn't be too interested in all the talking or stuff that gets printed the last couple of days.
"Fortunately tomorrow there is a new paper and the day after tomorrow again and especially on Monday.
"We focus on the race here and then try to make some good news for the Monday's paper."
Webber, who was 14th, said: "We've got work to do. We seem to be going OK in some places, but losing time in others - so we'll go through it tonight. I need to work on the balance. There's no change from the engine mapping amend."
Vettel was 0.829 seconds off the fastest time of the day, set by McLaren's Lewis Hamilton, while Webber was 1.819 secs off the pace.
But neither man used the faster 'soft' tyres before a heavy rain shower in the middle of the second session brought useful running to an end.
However, McLaren driver Jenson Button, who was sixth fastest in the second session and second behind Hamilton in the first, said he thought Red Bull were competitive.
"They're definitely quick - Sebastian did a 22.8 or whatever it was on prime [harder] tyres," Button said.
Hamilton added: "We know the Red Bull looks very quick, so does the Lotus and obviously the Ferrari as well.
"I feel good in the car but I have no doubts that Fernando [Alonso of Ferrari] will all of a sudden find half a second in qualifying.
"I have no doubts the Red Bulls will all of a sudden find a big chunk of time. But all in all we're not in a bad position."
Alonso, the world championship leader, was fifth fastest, 0.587 secs slower than Hamilton.
Ferrari technical director Pat Fry said: "From the little one can see of the others, it only goes to show what we said before the weekend: there are some cars that are faster than us and if we want to have even the slightest chance of beating them, we must do everything perfectly."
In the second session, Lotus driver Kimi Raikkonen was second fastest.
The Finn said: "We have been pretty happy with the car, like in the last race, but it's only Friday."