Ferrari in quandary over Fernando Alonso's team-mate

By Andrew Benson
Chief F1 writer
Last updated on .From the section Formula 173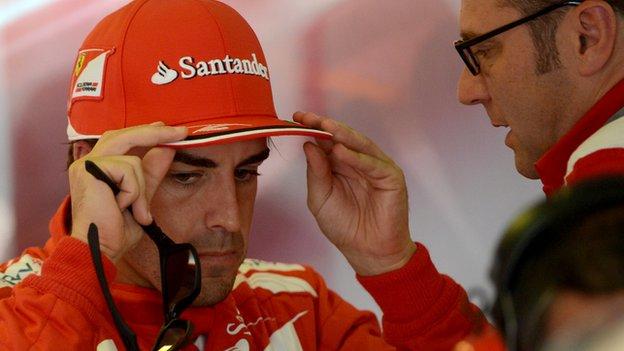 Ferrari are aiming to finalise their 2013 driver line-up by the end of September as they search for a replacement for Felipe Massa.
The team have not decided whether he will be dropped, but it is likely.
Ferrari have had talks with Jenson Button, but he is likely to stay at McLaren, while sources close to Ferrari dismiss reports that Lotus's Kimi Raikkonen could return.
The favourites to partner Fernando Alonso are Force India's Paul di Resta and Nico Hulkenberg or Sauber's Sergio Perez.
Ferrari are interested in Button, but any attempt to do a deal is complicated by the fact that the 2009 world champion is under contract to McLaren.
Button is in the first year of a 'two-plus-one' contract, with the two fixed years taking him to the end of 2013, after which McLaren have the option to retain him.
A further complication to Button joining Ferrari is that the Englishman wanted to sign a two-year contract.
The Italian team only want to sign a one-year deal with their second driver for 2013 with an eye on the possible arrival of Red Bull's Sebastian Vettel in 2014.
Ferrari have an arrangement with Vettel for the season after next, but it is not clear whether it is a firm contract or the equivalent of a letter of intent for him to join them.
Sources close to McLaren and Button dismiss talk of him moving to Ferrari as "complete rubbish".
Rumours of Raikkonen returning to Ferrari in 2013 emerged at the Hungarian Grand Prix last weekend - he last drove for the team in 2009, after which Ferrari terminated his contract and paid him not to drive in 2010 to make way for Alonso.
Sources close to Ferrari say the Finn's representatives did approach them to inquire whether they were interested in taking Raikkonen back, but were told the team were not interested.
Ferrari have been left in a quandary as the other drivers on the list are all to a certain degree unproven, and the team are unsure whether any would be an improvement on Massa.
But the Brazilian's inconsistent form this year means they are leaning towards replacing him.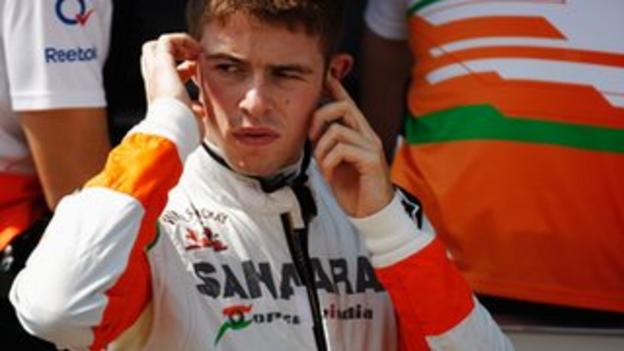 Massa started the season a long way off the pace of Alonso at a time when the Ferrari was very difficult to drive.
His qualifying pace has improved in recent months but he continues to struggle to score points in races and has tended to get involve in incidents.
Ferrari are seeking a second driver who can back Alonso up and also score enough points to help them win the constructors' championship.
Perez is a member of Ferrari's driver academy, but the company's president Luca di Montezemolo has already said this year that he feels the Mexican is not experienced enough to drive for Ferrari.
Hulkenberg and Di Resta have very similar levels of experience to Perez, both having raced in F1 for a season and a half.
Ferrari have long been keen on Robert Kubica, but the Pole has still not sufficiently recovered from the horrendous injuries suffered in a rallying crash in February 2011.
Kubica, 27, can drive a road car and a rally car without problem but the nerves in his right arm, which was partially severed are still not healed suffiently to allow him to move his fingers quickly or accurately enough to operate the controls on an F1 car.
Ferrari team principal Stefano Domenicali said at the Hungarian Grand Prix last weekend: "We're not in any rush to make any decision or to announce anything because we want to pick the right time.
"We are totally in line with Felipe and for us Felipe has to be protected because it's important for this championship and this is the situation.
"So at the moment there is nothing new on that subject."
The contenders for Massa's spot

Driver

Team

Age

Races

Wins

Poles

Career points

Jenson Button

McLaren

32

221

13

7

867

Paul di Resta

Force India

26

30

0

0

54

Nico Hulkenberg

Force India

24

30

0

1

41

Sergio Perez

Sauber

22

30

0

0

61

And potentially for 2014

Sebastian Vettel

Red Bull

25

92

22

33

895

Robert Kubica

Lotus

27

76

1

1

273