McLaren boss Martin Whitmarsh is to step down as Fota chairman
Last updated on .From the section Formula 1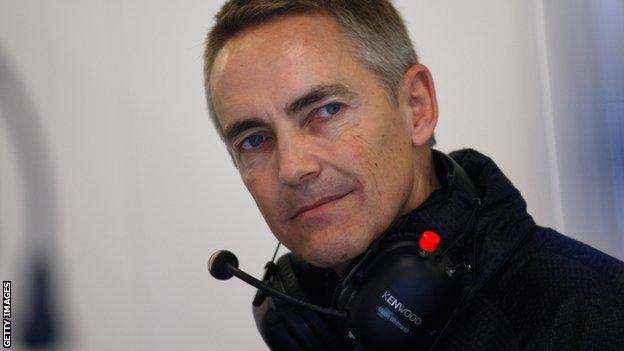 McLaren boss Martin Whitmarsh will step down as chairman of the Formula One Teams' Association (Fota).
He took over from Ferrari president Luca di Montezemolo in 2009, but will not stand for re-election.
Ferrari, Red Bull and Sauber withdrew from the group in a dispute over teams' spending after the 2011 season.
"We have tried to be a galvanising, stabilising force, trying to understand the issues of all the players," said Whitmarsh.
"Whatever happens, we'll continue to try and do those things. But I think it would be quite neat for someone else to have a go at it.
"I care about Formula 1, whatever role I'm in. McLaren, I think, has been an extraordinarily good citizen, in my opinion, of the sport."
The future of Fota was thrown into doubt by the dispute late in 2011, but Whitmarsh feels that his not seeking re-election will present a chance for someone else to continue its work.
"At the moment we've got 10 races left and I'll concentrate on that and on other things.
"We'll see what happens, but my recommendation to them will be that someone else does it. It'll be a good opportunity for them."
Fota was formed in 2008 with the aim of representing the interests of the teams when dealing with the sport's governing body the FIA, the commercial rights holders and F1 chief Bernie Ecclestone.