Jaime Alguersuari column: Belgian Grand Prix preview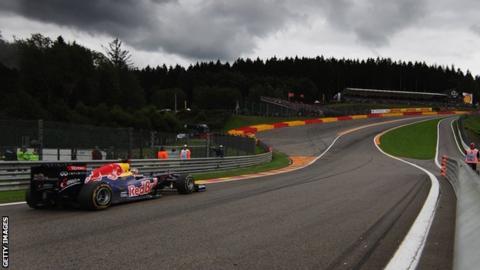 Belgian Grand Prix
Venue:

Spa Francorchamps

Date:

Friday 31 August - Sunday 2 September

Coverage:

Friday practice (09:00-10:30 BST & 13:00-14:30) and Saturday practice (10:00-11:00) Red Button. Saturday qualifying (12:10-14:30 BST) on BBC One and Red Button. Sunday race (12:10-15:15) BBC One, Radio 5 live and Red button. Highlights (19:00-20:00) BBC Three.
The summer break is now over and it's time to get the Formula 1 World Championship back underway with one of my favourite circuits - Spa Francorchamps.
Located deep in the Ardennes forest, Spa is a historic track with challenging corners like Eau Rouge and Blanchimont which are simply incredible to drive.
I drove in a Pirelli tyre test there last month and you could really feel all the downforce sucking the car onto the track as you negotiate a mix of medium- and high-speed corners.
There are plenty of places to overtake and if the weather plays a part - which is usually does - we should be in for an entertaining race. It's a true driver's track so if you're fast there, you'll be competitive everywhere else.
I had my best Formula 1 qualifying performance at Spa last year when I was sixth and my first podium in single-seater racing there when I was 16 years old so I've got good memories of the circuit.
Someone else who is fond of Spa is Michael Schumacher. The Mercedes driver will be celebrating his 300th grand prix this weekend which is a fantastic achievement.
He made his debut at the track, won his first race there and has stood on the top step of the podium a record six times. He is a role model to follow for every driver and will be trying his best to reach another milestone there by getting his first win for Mercedes.
Open season
There hasn't been a dominant team this season so it's difficult to predict who will run well at Spa but Fernando Alonso is looking best placed at the moment. He has done a fantastic job to keep his title hopes alive with a car that was not competitive at the start of the year.
Alonso has done that through consistency; a bad result for him is fifth place. This is what you want - you don't need to always be fastest, you just want to always be quick.
McLaren have clearly improved their car after strong performances in the last two races, while Red Bull have shown that they are there or thereabouts.
Then you have the Lotuses who have scored big points all season and you feel there is something big to come from Kimi Raikkonen or Romain Grosjean. It's so close to call.
Bright future for Spa
I think it's great news that Spa has extended its contract to host the Belgian Grand Prix for a further three seasons.
I'm a big fan of the new circuits that we have been going to in recent years because safety is important and these new venues have high standards. However, it is easy to find the limit because there are plenty of big run-off areas.
At historic tracks like Silverstone, Monza and Spa, you feel like everything is just a bit more challenging. There's not much room and you will hit the wall if you make a mistake so those circuits are a greater challenge for drivers.
Chilling in Ibiza
I've had great summer break in Ibiza, spending a lot of time on the beach, catching up with friends and playing a few gigs.
I also did a lot of training - cycling, running and go-karting - because my focus is to get back into Formula 1 next season. I've been working as the Pirelli test driver which has been great because tyres are so crucial in Formula 1 right now and the experience will give me an advantage. At the moment, we're still in talks about next year but it's looking pretty good.
I was in London for two days during the Olympics and it was fantastic. I thought it would be a nightmare, but everything was so well organised and it was very easy to move around city.
I saw the men's mountain bike race where one of my friends, Jose Hermida, came fourth. That was awesome. I also watched a bit of judo, swimming and obviously Usain Bolt who is an amazing athlete.
Jaime Alguersuari was a Toro Rosso F1 driver from 2009-11. He is BBC Radio 5 live's analyst and a Pirelli F1 test driver. He was talking to BBC Sport's Lawrence Barretto.