McLaren are not considering using team orders yet - Whitmarsh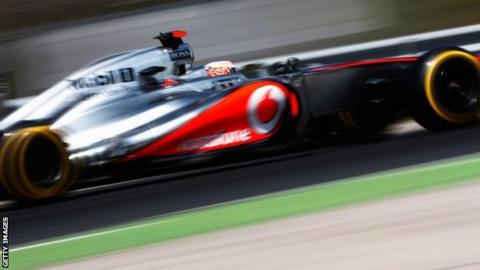 McLaren boss Martin Whitmarsh says the team are not yet considering using team orders despite Jenson Button falling off the pace in the title race.
Button is 88 points behind championship leader Fernando Alonso of Ferrari with team-mate Lewis Hamilton 47 adrift.
"It will be quite a few races before we make that decision," said Whitmarsh.
Whitmarsh added that he thinks Hamilton's contract situation, which runs out at the end of the season, will be resolved "in fairly short order".
Button started the season with victory in Australia and second place in China but began struggling to get the best out of the Pirelli tyres and suffered a dip in form.
The 2009 world champion looked to have got on top of his troubles finishing second in Germany and then sixth last time out in Hungary, where Hamilton took victory.
It was that upturn in form for both Button and the team as a whole which has led Whitmarsh to believe everything is still to play for in the battle for both championships.
"There may well come a point [when we decide to ask one driver to support the other], but there are still many races left and many points on offer - things can change quickly," he added.
"With the performance we were showing going into the break, we should be focused on winning more races and contesting for the championship. It's wide open and we're in contention.
"McLaren prides itself on going into each championship giving both drivers equal opportunity to win races and fight for the championship.
"We therefore have to be measured in terms of when we talk to those drivers about putting their support behind the other.
"The good news for fans and for both drivers is that I can assure you both drivers will be going into the Belgian Grand Prix trying to win the race and as a team, we will do our best to allow them to do so."
Button added: "Forty points behind Lewis you'd say I was going to give up on the championship, but Lewis is 40 points behind Fernando and he thinks he has a pretty good chance of the championship. No, we go racing and see what happens. We come here positive we can get a good result."
If the team do decide to emply team orders later in the season, Hamilton said he wouldn't be in favour of them.
"I don't see racing like that," he said. "I've watched years in the past where drivers let drivers past to win the championship, it doesn't feel right to me. I wouldn't be asking for that.
"If I'm not quick enough, I'm not quick enough. I want to win because I was the quickest, not because I was given points by someone being held up."
Hamilton's future has been the subject of speculation as his current deal, with the team he has spent his whole career with, comes to end at the end of the season.
Earlier this month, Whitmarsh said Hamilton had told him he wanted to sign a new contract with the team and while it appears a deal is close to being resolved, the 2008 world champion has yet to put pen to paper.
"Lewis and the team have been focused on a little bit of relaxation after a hard first part of the season and also keeping our foot on the throttle to make sure we're developing the car as winning is what is important," said Whitmarsh.
"We are progressing things in the background while not letting it get in the way of doing our job."
Belgian Grand Prix 2012, day one
Friday, 31 August:

First practice 08:55 BST; BBC Red Button/online (audio and text). Second practice 12:55; BBC Red Button/online (audio and text).
Belgian Grand Prix 2012, day two
Saturday, 1 September:

Third practice 09:55 BST; BBC Red Button/online (audio and text). Qualifying 12:10 BST; BBC One online (audio and text).
Belgian Grand Prix 2012, day three
Sunday, 2 September:

Race build up 12:10 BST; BBC On/BBC One HD/online. Race live: 13:00; BBC One/online/BBC Radio 5 live. Highlights 19:00 BST BBC Three.