I can still win F1 title this year, says Kimi Raikkonen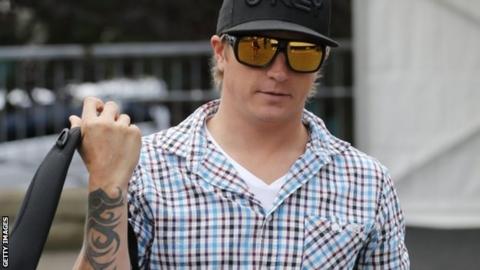 Lotus driver Kimi Raikkonen says he has every chance of winning the Formula 1 world championship this year.
The Finn is fifth in the standings - 48 points behind Ferrari's Fernando Alonso - in his first season back since spending two years in rallying.
While yet to win in 2012, ahead of the Belgian Grand Prix he said: "We still have a good chance, so why not?
"Apart from Alonso, the rest are pretty close to each other and there's a lot of points to be won. We try."
Alonso has a 40-point lead over Mark Webber, with the Australian's Red Bull team-mate Sebastian Vettel two points further adrift and McLaren's Lewis Hamilton fourth, one point ahead of Raikkonen.
Hamilton won the last race before F1's mid-season break, in Hungary at the end of July, with Raikkonen a close second.
The Finn and his Lotus team-mate Romain Grosjean have been competitive all season but the team have yet to win a race.
Raikkonen has a stellar record at Spa, having won every race he has finished here since 2004, but said: "It's not any more special than other places. It's a nice race circuit and usually it gives nice racing, but I know it as well as any others.
"It just has been pretty good for us, but I have had some bad races also, it's not like we come here and we suddenly should be good. It can be a disaster. Hopefully it can be a good normal weekend.
"We should be up there but we don't know yet."
Raikkonen's chances of victory have been hindered by poor qualifying performances in the two races in which the car has been most competitive and he admitted he had to improve his form on Saturdays.
"We try to do the best and we haven't managed to put it together this season," he said. "We know more or less the reasons and we learn from those and make it better.
"I have been making mistakes and there have been some mistakes on set-up on Saturdays. It has been working OK on Sundays; not as well as we hoped but small things can make a big difference."
Belgian Grand Prix 2012, day one
Friday, 31 August:

First practice 08:55 BST; BBC Red Button/online (audio and text). Second practice 12:55; BBC Red Button/online (audio and text).
Belgian Grand Prix 2012, day two
Saturday, 1 September:

Third practice 09:55 BST; BBC Red Button/online (audio and text). Qualifying 12:10 BST; BBC One online (audio and text).
Belgian Grand Prix 2012, day three
Sunday, 2 September:

Race build up 12:10 BST; BBC On/BBC One HD/online. Race live: 13:00; BBC One/online/BBC Radio 5 live. Highlights 19:00 BST BBC Three.