Championship leader Fernando Alonso says he's not title favourite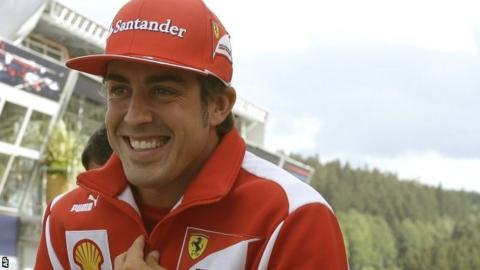 Ferrari's Fernando Alonso insists he is not the favourite for the title despite heading into the last nine races of the championship with a 40-point advantage.
Alonso pointed to his fifth-place in the last race in Hungary as evidence.
"The classification is a good advantage for us but in terms of performance, of the guys who are at the front, we are clearly the slowest," he said.
"We have a points advantage and a performance disadvantage, so I don't think we are favourites."
The Spaniard's remarks drew an amused response from McLaren's Lewis Hamilton, who is in fourth place in the championship, 47 points adrift of Alonso.
"He said that? He would say that, wouldn't he?" Hamilton said.
"He's just playing, just positioning himself in a nice way. I could say the same thing."
Hamilton added: "Fernando, I don't know why he'd say his car is not as quick, unless he feels they've taken a step backwards.
"Fernando's probably the best all-round driver at the moment. He's bringing in points consistently in every race, so he's doing a solid job there, and he has won several races so I definitely wouldn't say he's got the worst car."
Alonso has won more races than anyone else this season - his tally of three victories is one more than Red Bull's Mark Webber, his closest challenger, and Hamilton, while no-one else has won more than one.
But he has only twice qualified on pole in 11 races, and then only in wet conditions, and has qualified no higher than third in the dry.
Alonso said he did not know what Ferrari's competitive position would be in Belgium this weekend, at a circuit where he has never won and which takes place after a month-long summer break, during which the teams were forbidden to work for two weeks.
"It is difficult to know because race to race the performance keeps changing (as does) the distance to pole position," Alonso said.
"The last race, which is the nearest comparison, we were eight-tenths from pole position, which is a little bit too much so we need to improve the situation.
"We (will) see how much it is here and in Monza because they are two strange circuits, let's say in terms of characteristics of the car, we run with low downforce compared to the rest of the circuits.
"Anything can happen in the next two grands prix so we need to score some good points and maybe the next real reference we will have will be in Singapore or Japan, and at that point we must close these eight-tenths to be in a position to fight with them."
Hamilton said he was optimistic he could win the title, despite his deficit to Alonso.
"I definitely feel we have as good a chance as anyone of this championship. While we have lost some points, there is still a lot to play for.
"We have to assume everyone is going to have some ups and downs - we have to be the team that has the least. None would be great."
The McLaren driver made some cryptic comments about his ongoing contractual negotiations with the team - he is out of contract at the end of this season.
It has been assumed that he would stay with McLaren, but asked whether in his "heart of hearts" he wanted to stay, Hamilton said: "Yeah, but this is a business. I always wear my heart on my sleeve but of course you have to be business-minded as well."
He added: "It's important at the moment that the team know I am massively committed to them winning the championship."
Belgian Grand Prix 2012, day one
Friday, 31 August:

First practice 08:55 BST; BBC Red Button/online (audio and text). Second practice 12:55; BBC Red Button/online (audio and text).
Belgian Grand Prix 2012, day two
Saturday, 1 September:

Third practice 09:55 BST; BBC Red Button/online (audio and text). Qualifying 12:10 BST; BBC One online (audio and text).
Belgian Grand Prix 2012, day three
Sunday, 2 September:

Race build up 12:10 BST; BBC On/BBC One HD/online. Race live: 13:00; BBC One/online/BBC Radio 5 live. Highlights 19:00 BST BBC Three.