Spa GP crash: F1 bosses hope to improve head protection by 2014

By Andrew Benson
Chief F1 writer
Last updated on .From the section Formula 1
Formula 1 bosses hope to introduce additional driver head protection in time for the 2014 season.
The issue has arisen again after the crash at Sunday's Belgian Grand Prix, when Romain Grosjean's flying Lotus narrowly missed Fernando Alonso's head.
McLaren design boss Paddy Lowe, a head protection expert, said: "It once again showed one of F1's biggest safety exposures is the open cockpit.
"We've had a number of near misses in the last three or four years."
Alonso's Ferrari was hit by Grosjean's Lotus at the first corner at Spa-Francorchamps after the Frenchman collided with McLaren's Lewis Hamilton seconds after the start of the race.
Grosjean, who has been involved in seven first-lap crashes in 12 races this season, has been given a one-race ban for an incident governing body the FIA described as "an extremely serious breach of the regulations, which had the potential to cause injury to others".
It follows two other notable incidents in the last four years. At the Abu Dhabi Grand Prix in 2010, Vitantonio Liuzzi's Force India mounted the nose of Michael Schumacher's Mercedes, while Ferrari's Felipe Massa suffered a fractured skull when hit by a flying piece of debris in 2009.
F1's Technical Working Group has been researching methods of head protection since last year.
They have looked at a jet-fighter style cockpit canopy and a forward roll structure, which is the one that is being most actively pursued.
After the race in Belgium, Lowe said he thought changes could be made in time for 2014.
"We started the project a year ago," he said. "We'll see. Personally, I think something is inevitable because it is the one big exposure we've got.
"How many times have you looked at things including today and thought, that was lucky? One day it won't be lucky and we'll all be sitting there going: 'We should have done something about that.'"
Lowe said the aim was to preserve an open-cockpit formula but provide "some defence against cars sliding along or landing from above".
A canopy and a roll structure could both cause problems for drivers.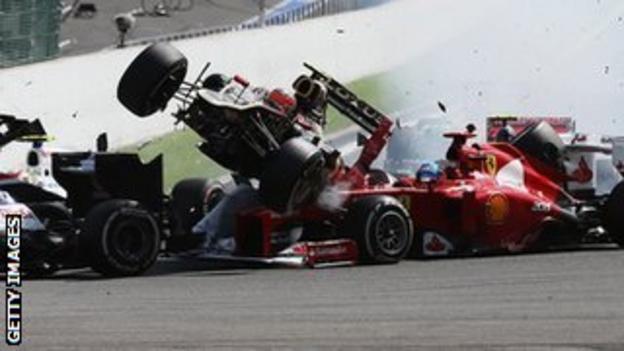 A canopy distorts the driver's vision, is heavy and makes it more difficult to extract an injured driver. The roll structure also has vision issues, but Lowe says these are surmountable.
"We have made a test piece which has been tested structurally with various impacts, firing wheels at it," he said.
"That was successful so we have understood some of the parameters in terms of the angles that are needed and the strengths of the pieces. The next bit of work in progress is assessing the visibility.
"Obviously, a driver ideally wants nothing in the way but in the same way we drive a road car with pillars, you just get used to it, don't you?
"Your mind works out a way around it. That's what we found in our simulator, provided the pillars don't get too big. The next bit is to try to produce a more optimal design. The current test piece looks very ugly but is really a very early prototype to assess forces."