Gary Anderson column: Wild F1 drivers need stern lecture

By Gary Anderson
BBC F1 technical analyst
Last updated on .From the section Formula 1
We all make mistakes in life, but so far neither Romain Grosjean nor Pastor Maldonado have learnt from theirs this season.
I suspect the chain of events that caused the huge pile-up at the beginning of the Belgian Grand Prix was started by the brakes on Kamui Kobayashi's Sauber smoking badly on the grid.
The other drivers behind him will have been concerned, wondering what might be happening with his car, so I'm sure there was a bit of tension on the grid. But that does not excuse Grosjean.
The start at Spa is always difficult - the track is narrow and it is a short run to the first corner, La Source - but the Lotus driver moved over too quickly on Lewis Hamilton's McLaren.
The Frenchman should have left a car's width on the inside to make sure Hamilton was OK, but he didn't. Because of that, we witnessed a crash that took out Hamilton, Fernando Alonso and Sergio Perez.
A one-race ban for Grosjean is the correct decision. He has had seven first-lap incidents in 12 races this season - and that is just a bit too much.
As for Maldonado, I am willing to accept the jump start was not completely his fault - the Venezuelan was only two places behind Kobayashi and had a clutch issue.
But getting a second five-place grid penalty for ramming someone up the back most definitely was.
Maldonado has blitzed the car too many times this year. He took a pole position and excellent victory in Spain, but that was seven races ago and he has not scored a point since.
The most important thing that can come out of this, though, is that both Grosjean and Maldonado accept they have done something wrong.
I have worked with many racing drivers in the past who, even when they were given a ban, felt they had not done anything wrong and did not see any reason to change their ways.
Their teams need to tell them they are doing something wrong and the drivers, in turn, must accept that advice and realise it is time to buck up.
Grosjean and Maldonado are throwing away good points for their teams - and money.
The higher you are in the constructors' championship, the more you get for your team. And the more money you have, the better car you are going to build.
Losing Hamilton and Alonso at the start of a race diminishes the race as a spectacle, too.
If a backmarker is taken out, you can live with it, but when two front-runners, including the leader of the championship, get wiped out through no fault of their own, it is too much. It has to be addressed.
Quite apart from that, of course, a driver could easily have got injured or worse in that situation. Grosjean's car was not that far from Alonso's head as it flew through the air.
BUTTON AND HAMILTON
It was a fantastic weekend for Jenson Button. He was faultless in qualifying and was just as good in the race.
All praise to him, because it is great to see him pull it back from his dip in form in the early part of the summer.
Button's pole position was his first for McLaren since joining them in 2010.
It was the first time a McLaren driven by someone other than Lewis Hamilton has been on pole since the 2008 British Grand Prix, when Heikki Kovalainen finished top of the standings. That is a lot of races.
As for Hamilton, if your team-mate is on pole and you are second and pretty close, it is not too bad. But when the gap is 0.8 seconds and you are eighth, that is something else.
Hamilton blamed the time difference on the fact that the two McLaren cars were running different wings, but that was not the problem according to the speed-trap data. With a higher downforce car, Hamilton should have been able to match Button's time.
I believe Button's incredible lap in the second part of qualifying, which was 0.909secs quicker than Hamilton's, freaked Lewis out.
It looks as if Hamilton could not cope with that, messed up the top 10 shoot-out and then started tweeting stupid stuff.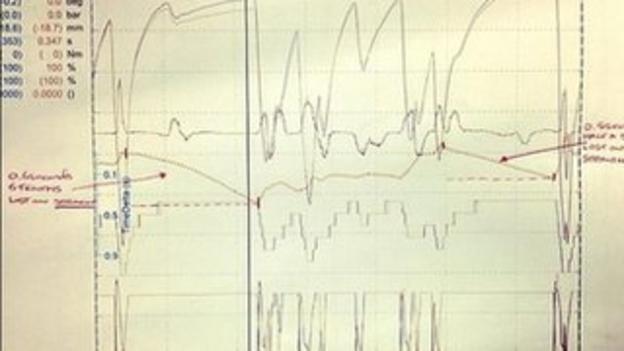 Hamilton is not a kid any more. He is 27, he is a leading grand prix driver and an ex-world champion.
He has credibility, so to tweet some of the stuff he did on Saturday night, with the language contained in it, was not befitting of his status. I would say it was childish.
If he was my driver, he would have got a ticking-off after the first tweet, but that does not happen these days.
As for the tweet on Sunday morning, when he posted a picture of a telemetry sheet containing data from his and Button's qualifying laps, that is completely unacceptable.
I have had a good look at that sheet now and, while it does not reveal anything too significant, to open up that cupboard of information just shows how naive Hamilton is, how little he understands the big picture.
F1 is about being secret squirrel.
THE TITLE BATTLE
Button aside, the most impressive drive in Belgium came from Sebastian Vettel, who drove his Red Bull from 10th on the grid to second by the end.
He twice came up behind team-mate Mark Webber and both times nailed him immediately, no mucking about.
I believe Vettel was addressing a situation, stamping his authority, proving a point. He made a lot of moves in the race but the ones on Webber were that bit more committed and uncompromising than the others.
Vettel has cut the gap to Alonso to 24 points and the title race is wide open with eight races to go and 200 points still available.