Jaime Alguersuari column: Spa pile-up shows safety is serious

By Jaime Alguersuari
Former F1 driver and BBC Radio 5 live analyst
Last updated on .From the section Formula 1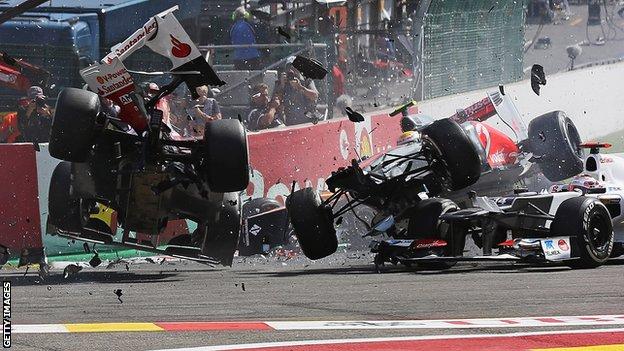 The crash at the start of the Belgian Grand Prix was very dangerous. There was a significant risk to people's safety and it needs to be taken seriously.
I don't want to go into too much detail about the details of the crash. The penalties have been given and the stewards, clerk of the course and race director Charlie Whiting gave their own point of view, which are the most valuable ones, so we need to be quiet and respect what they have said.
The ban for Lotus driver Romain Grosjean looks fair. Obviously it is a hard decision but we are dealing with safety - something everyone involved in F1 should be aware of - and the drivers are crucial in this scenario, because they are the ones inside the car deciding what actions to take.
The start at Spa is always difficult. You are sending 24 cars into an almost 180-degree corner. The probability of something happening there is higher than at some other tracks.
In a way, what happened was positive, in that we have to be happy no-one was injured and the drivers at fault were penalised.
I know people have said that Grosjean and Williams's Pastor Maldonado have been given their penalties for Monza to make an example of them and teach them a lesson. I don't know about that, but all I would say is that we have to be serious when we talk about these things and we should be proud of F1's governing body the FIA for doing such a good job on improving safety.
Something big happened on Sunday, but it underlined how the FIA, the drivers, the circuits, everyone has been doing a great job and that safety has improved so much even in the last few years.
The Grand Prix Drivers' Association also tries to come up with ideas to find new ways to protect people in F1, and to be honest I think this crash would have had much more serious consequences if it had happened 15 years ago.
KEEPING CALM IN ADVERSITY
The crash took out Lewis Hamilton's McLaren and Fernando Alonso's Ferrari, and Alonso saw a lot of his championship lead cut away by Red Bull's Sebastian Vettel.
I have never battled for the championship in F1, but a similar situation happened to me at Spa last year.
I had qualified sixth on the grid, which was a great result for my Toro Rosso team, and I was taken out by Bruno Senna's Renault in a crash at the first corner.
In those circumstances when you are hit and have to retire the car and it is 100% not your fault, you have to be relaxed.
It's a pity for Alonso, but he could not have avoided it. It's not as if he has made a mistake or the car had to be retired because of a technical problem.
He will have just thought: "I'm OK, let's go off, think about it, and head to the next race."
Of course, Alonso and Ferrari will not be satisfied, but if it had not happened, with the pace he had on Saturday, he would have been on the podium again.
He is still leading the championship, there are a lot of points still available, everything is still open - just as it was before the race.
MCLAREN LOOKING GOOD
Jenson Button dominated the Belgian Grand Prix and I believe what we saw demonstrates that McLaren have made a step forward in performance compared with their competitors.
They showed it in Hungary, where Hamilton won before the mid-season break, and they showed it again in Spa.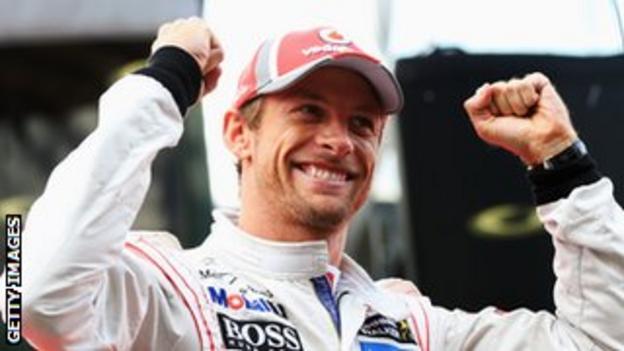 Analysing Button's weekend, it looked easy for him to get the car around the track. He was not struggling to make up time, and looked so confident.
Looking at his car balance he had fantastic rear grip and traction, particularly in high-speed corners. The car just looked really, really good.
I said from the beginning of the weekend that I saw McLaren as the favourites and I believe they are the leading package at the moment. They showed they had the best car at the first race of the season, and then they had a bit of a dip, but they have come back.
When they are in an up position they are always really, really competitive and I expect them to be really strong again in Monza this weekend at the Italian Grand Prix.
They have all the tools to win the championship - they just need to be consistent.
As for Lewis Hamilton tweeting a picture of McLaren telemetry data, all I can say is that in F1 there is so much confidentiality, and you are not allowed to share data.
I would never do something like this because it is a kick in the teeth to confidentiality, to yourself and to your team, who are all working so you can do your best and the company can improve.
Jaime Alguersuari, BBC 5 live's F1 analyst, drove for Toro Rosso in F1 from 2009-11. He was talking to BBC Sport's Andrew Benson