Ferrari's Luca di Montezemolo says races should be shortened

By Andrew Benson
Chief F1 writer at Monza
Last updated on .From the section Formula 1174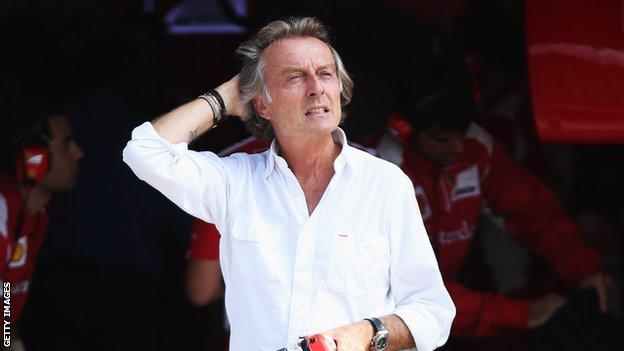 Ferrari president Luca di Montezemolo says he believes Formula 1 should consider shortening grands prix to appeal to the younger generation.
Di Montezemolo proposed cutting grands prix into two shorter races in a wide-ranging exposition on how he would like F1 to change in the future.
"How long is the race, an hour and a half? Maybe this is too long for young people," the Italian said.
"Maybe I'm wrong but we have to look at how we can improve the show."
Di Montezemolo used the occasion of Ferrari's home race at Monza in Italy to put forward his argument that F1 needs to take a long look at how it can survive in the tough economic climate at the start of the 21st century.
He said the sport needed to cut costs, promote innovation, increase technology transfer to road cars, increase testing, reduce the influence of aerodynamics, include ways of reducing costs into the rules and allow the top teams to supply customer cars to smaller teams.
He also suggested changing the times European races run in the summer to attract a bigger television audience.
"I don't think it's good to race in July and August at 2pm when the people are in the sea or on vacation," he said. "Soccer plays at 6, 7, 8 o'clock."
And for the first time he voiced Ferrari's concerns that a rival had broken the terms of the sport's Resource Restriction Agreement (RRA), which lays out limits for how much research and development teams can conduct.
"I want to have rules that permit us to spend less, because I don't think if you say, this is limited to spend… How can you control this?" he said
"I think in the recent past, somebody has cheated on this. So I prefer to have clear rules that allow to spend less, particularly in something that is not crucial for the spectators or the competition."
He did not expand on the identity of the team at which he was pointing the finger, but it is well known within F1 that Ferrari believe Red Bull have been breaking the RRA.
Red Bull have always denied the accusation but were not immediately available for comment.
He also said Ferrari would remain in F1 as long as it was true to its ethos.
"Ferrari has been in F1 for more than 60 years, the success in F1 is crucial," he said.
"Ferrari will remain in F1 if F1 is F1 and not a race for electric cars or games. It is innovation and technology and if you have to spend money you spend it for the advanced research and not for something that is nothing to do with competition."
He added: "We want an F1 with less cost. Tell me why we have to spend a huge amount of cost to spend 24 hours in the wind tunnel to do a small wing flap that for the public is zero, for the television is zero, for me as a road-car manufacturer it is less than zero because we will never use this for the road car.
"So it is better to say due to the economic crisis in the world, you are allowed to use the wind tunnel, to use an example, just 10 days a month. If you are the best, you are the best.
"I think we have to bring back some tests, because we used to do too many tests, now we do zero, we have to be in the middle because if I want to give a chance to a new driver who is young, then how can I do it, I would never put a young driver to Ferrari without giving him the possibility to do this.
"All together we have to look ahead, starting from the point of view that we have an economic crisis in the world and the world is different from some years ago.
"I want a successful F1, to [allow Ferrari to] remain in F1 because F1 is an important part of the Ferrari life."