Lewis Hamilton '100% focused' on winning 2012 title with McLaren

By Andrew Benson
Chief F1 writer
Last updated on .From the section Formula 1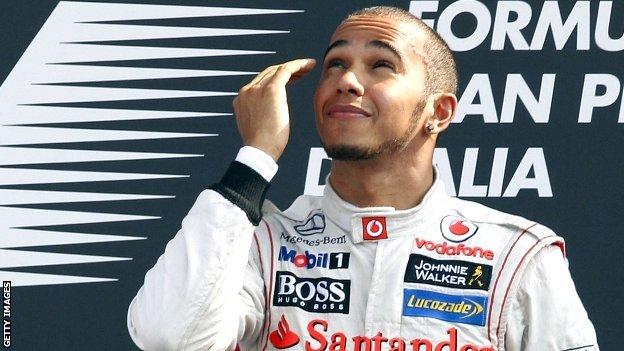 Lewis Hamilton insists he is "100% focused" on winning the title with McLaren this season, despite the ongoing speculation about his future.
But Hamilton, 27, said: "We're all wise enough to understand that what is written is not necessarily true.
"The important thing is that I'm 100% focused on winning with this team."
Hamilton, who is out of contract at the end of the season, was talking at a McLaren promotional event in Mumbai, India, where he said he was in no rush to conclude a deal over his future.
"I don't have a timeline. My focus is on trying to win this world championship," Hamilton told reporters ahead of next week's Singapore Grand Prix.
"Of course I do have to have those things sorted out but I do have people in the background working on those contract negotiations.
"There's a lot of speculation, there's a lot of stories that aren't true."
Hamilton has been with McLaren since the team picked him up as a 13-year protege, and has driven only for them in his six-year Formula 1 career.
After winning the Italian Grand Prix on 9 September, he is second in the championship, 37 points behind Ferrari's Fernando Alonso.
McLaren have won the last three grands prix from pole position - Hamilton was victorious in Hungary at the end of July and team-mate Jenson Button won the Belgian Grand Prix at Spa earlier this month following the summer break.
"We've worked so hard since 2009 to try and win this championship and hopefully, finally, we're in the position where we can," Hamilton said.
"So the most important thing is that I do not get distracted by all the rubbish that's been around."
Hamilton admitted he could have been in an even stronger position had it not been for points lost to operational errors early in the season.
There were pit-stop problems in three of the first four races, and at May's Spanish Grand Prix in Barcelona he was moved to the back of the grid after setting pole position because the team had not put enough fuel in the car.
"We lost a lot of points at the beginning. We were on the front row in the first seven or eight races where we should have won all of them," he said.
"Barcelona, we really could have won that, we had the best car that weekend. But you know we learn from those experiences and that's what life is about.
"We're in a very, very strong position, we're getting stronger and we will get stronger through the rest of this year."