Formula 1's greatest drivers. Number 7: Jackie Stewart
Last updated on .From the section Formula 1152
This year, BBC Sport is profiling 20 of the greatest Formula 1 drivers of all time. The BBC F1 team were asked to provide their personal top 20s, which were combined to produce a BBC list. Veteran commentator Murray Walker provides his own reflections in a video of their career highlights and chief F1 writer Andrew Benson profiles the driver. This week is number seven - Jackie Stewart.
Sir Jackie Stewart's enduring legacy stretches much further than 27 grand prix wins in 99 races, three world championships and being one of the greatest drivers ever to set foot in a Formula 1 car. It is that he had a bigger effect on his sport than arguably any man in history.
Stewart is one of a handful of drivers who can claim to have been the dominant figure of their era. From mid-1968 until his retirement at the end of 1973, he was the unquestioned number one and everyone knew it.
But he was so much more than that. Through a tireless campaign for safety, Stewart began to steer Formula 1 out of an era known for its frequent fatalities, when the likelihood of dying was considered part of the job, into modern times.
Of course, others have since taken up the standard and moved it on, but it was Stewart who set the process in motion, who refused to accept that F1 was a modern-day gladiatorial arena, and insisted it was a sport for which men did not need to die.
Stewart was the first driver to wear seatbelts, who insisted circuits should be lined by barriers, on fire-resistant clothing, pit walls, six-point safety harnesses and crash structures in cars.
That was just while he was driving; his campaign continued after he hung up his helmet in 1973. For this, every grand prix driver to this day is in his debt.
If it sounds now like it was only common sense, it was anything but at the time. Attitudes to safety were very different in the 1960s and early 70s, and Stewart was vilified for his stance. He didn't care.
"When I was a driver," he says, "it would have been far easier to keep quiet about safety. I'd have been a much more popular world champion if I'd said what people wanted to hear me say. I might not have been alive, mind you, but more popular."
The catalyst for Stewart's safety campaign was an accident he suffered in the 1966 Belgian Grand Prix, when he was left trapped in an upturned car with fuel leaking out and was left for a very long time before being rescued.
But he was only able to get away with it and drive the changes through because of his towering talent in a racing car.
That ability - and the supreme confidence that went with it - was apparent from the very beginning of his F1 career, when in 1965 he turned down an offer to join Lotus in favour of learning his trade at BRM because he did not think racing alongside Jim Clark was a good idea.
Clark was the gold standard at the time, the driver all others looked up to, but it soon became apparent that Stewart was going to be a force to be reckoned with in his own right.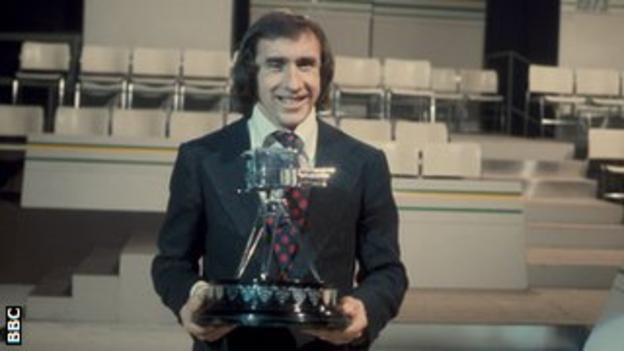 Clark dominated the year in the Lotus 25 and 33, but Stewart qualified his less-competitive BRM second to him at the daunting Clermont Ferrand track at the French Grand Prix and took his first win at the Italian Grand Prix later in the year.
BRM's competitiveness slipped over the next couple of years and for 1968 Stewart joined the new Tyrrell-Matra team. Clark was killed early in the year, and Stewart - his close friend - wasted no time in establishing himself as the new benchmark in F1.
The best of a series of outstanding drives that season was a remarkable victory at the German Grand Prix at the Nurburgring, where in appalling conditions of rain and fog he won by four minutes.
He might have won his first world championship in 1968 had it not been for an injury that forced him to miss two races, and a retirement in the finale in Mexico City, but there was to be no holding him back in 1969.
Stewart utterly dominated the season in his Tyrrell-run Matra, winning by more than two laps at Barcelona's Montjuic Parc, by a minute at Clermont Ferrand and more than a lap at Silverstone, the last victory after an almighty duel with Lotus's Jochen Rindt.
The Matra relationship ended for 1970, and Tyrrell were stuck with an uncompetitive March. But for 1971 the team built their own car and again Stewart dominated. Of six wins, the best was at Monaco, when he won by 25 seconds, setting a lap record a second faster than his own pole position time, in a car with only front brakes.
A stomach complaint affected his 1972 season, but he took a third title in 1973. There were five further wins and, although only 34 and still at the height of his powers, from early in the year Stewart was beginning to think of retirement.
He planned it with the utmost secrecy, not even telling his wife Helen, because he did not want her to worry and count down the days. Meanwhile, Stewart groomed his dashing young French team-mate, Francois Cevert, as his successor.
It was all going to end with perfect symmetry. The world championship was already won and the final race of the season, at Watkins Glen in the US, was to be Stewart's 100th grand prix.
But he never raced in it. Cevert was killed in an accident of horrific violence in qualifying, and Stewart withdrew from what would have been his final race. Only then did he tell his wife he had retired.
At the time, his 27 career victories set a new record, surpassing by two the previous mark set by Clark. A measure of the magnitude of his achievement is that it took 14 years for it to be beaten - by Alain Prost.
There are many more grands prix each year now than there were in Stewart's day, and the cars are vastly more reliable, but still he remains sixth in the all-time list.
Stewart's driving was characterised by a clinical, apparently effortless, smoothness based on "letting the car do the work" - still one of his favourite phrases.
But Stewart the man is a restless character and, his driving career finished, he embarked immediately on a new, even more lucrative, one in business and the media, using the contacts he built up while racing. That career continues to this day.
And unlike many former drivers, he even made a partial success of running his own team from 1997-99, winning a race thanks to Johnny Herbert before selling it on - at huge profit, typically - to Ford, the company who had helped him set it up.
Stewart's healthy ego, coupled with a virtual inability to decline a microphone and a fondness for royalty, mean some find him irritating. But he is an engaging character of great intelligence and insight, continues to talk sense and remains in high demand.
And a measure of the impact he had as a driver, and the success of his second career, is that, even now, aged 73, he is as famous and recognised as any of F1's current stars.
Number 17 - Emerson Fittipaldi