McLaren say 2013 car design is based on Lewis Hamilton staying
By Lawrence Barretto
BBC Sport
Last updated on .From the section Formula 1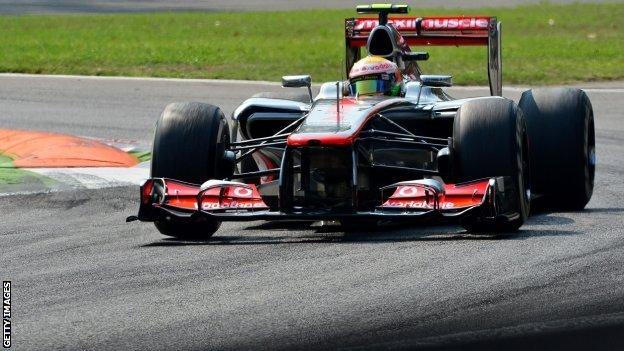 McLaren say they are designing their 2013 car on the assumption Lewis Hamilton and Jenson Button will be their two drivers next season.
But on Wednesday, McLaren technical director Paddy Lowe said it was their "assumption" that Hamilton would stay.
"That's how we're working in terms of the design for next year," he said.
"It is our assumption that they are the drivers who we will be fielding next year. We have two fantastic drivers in Lewis and Jenson and we are very keen to keep them."
However, Lowe added that a change of driver was "ordinarily, not a huge issue" in terms of design.
Hamilton, who is out of contract next year, has said he is in no rush to finalise a deal for next year and insisted that he is 100% focused on winning the title.
The 2008 world champion has been with the team since he was 13.
Nico Rosberg has said this week that he is "definitely" staying at Mercedes, which would mean only Michael Schumacher's seat will be available, should the seven-time world champion retire.
The German legend is out of contract at the end of the season, and the 41-year-old has yet to announce whether he will extend his three-year stay at the team.
Rosberg told German news agency DAPD: "I am definitely in the Silver Arrow [in 2013].
"Michael is still at a very, very high level on the track. It is a challenge to race against him. It would suit me if Michael stays."
Looking ahead to this weekend's Singapore Grand Prix and the six subsequent races that complete the season, Lowe said McLaren might put a greater emphasis on qualifying performance as the team look to catch championship leader Fernando Alonso, who has a 37-point advantage over second-placed Hamilton.
The last four races have seen the pole sitter take victory, with McLaren taking three of those.
"It does seem there is a trend about being able to control the car and the use of the tyres if you're leading from the front," Lowe said. "We've certainly noticed it and it may cause us to do some things differently.
"We're in a position where we can qualify well at the moment, which has proved to be a benefit relative to our race pace which has been relatively weaker.
"Last year, the opposite was the case. So we're in a great position this year for the remaining races."