Singapore GP: 2013 F1 season calendar released to teams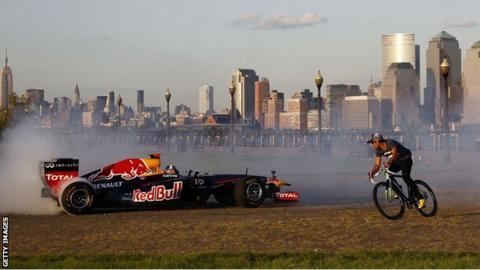 The 2013 season will start in Australia on 17 March and includes a new race in New Jersey USA, according to a calendar released to teams.
The schedule, which is provisional but expected to be approved next week, contains 20 races.
Sixteen of the races are 'back-to-back' events on consecutive weekends.
The New Jersey race, called the Grand Prix Of America, is one of three subject to confirmation alongside the races in Singapore and South Korea.
The British Grand Prix is listed as 30 June, a week earlier than this year.
Singapore is in the middle of negotiations over a new contract, but BBC Sport understands it will definitely take place next year as the South-East Asian city state effectively has two more years to run on its current deal.
The race made its debut in 2008 with a five-year contract until 2012, but it is said to include a clause that dictates that if Singapore wants to end the deal it must do two more years.
A statement from the organisers said: "We are in the process of negotiating a possible renewal of the agreement and the outcome will be announced once discussions are complete."
The question marks over New Jersey and Korea are more serious.
F1 boss Bernie Ecclestone has himself expressed doubts that the New Jersey organisers will get the track, which features the Manhattan skyline as a backdrop, ready in time.
The second US race in Austin, Texas, which makes its debut this year on 18 November, is called the United States Grand Prix to differentiate the two events.
The Korean race, which made its debut in 2010, has long been shrouded in doubts because of financial issues.
There is also uncertainty over the venue of the German Grand Prix.
Next year is theoretically the turn of the Nurburgring in the deal with Hockenheim which sees the two tracks alternate as hosts.
But the Nurburgring is struggling with financial problems and it remains to be seen whether it will be able to host the race. If not, Hockenheim is expected to step in.
The schedule as listed is expected to be confirmed at a meeting of the FIA World Motorsport Council, effectively F1's legislative body, on 28 September.
PROVISIONAL 2013 FORMULA 1 CALENDAR
17 March - Australia (Melbourne)
24 March - Malaysia (Sepang)
14 April - China (Shanghai)
21 April - Bahrain (Sakhir)
12 May - Spain (Barcelona)
26 May - Monaco
9 June - Canada (Montreal)
16 June - America (New Jersey) *
30 June - Britain (Silverstone)
21 July - Germany (Nurburgring/Hockenheim)
28 July - Hungary (Hungaroring)
1 September - Belgium (Spa-Francorchamps)
8 September - Italy (Monza)
22 September - Singapore (Marina Bay) *
6 October - Japan (Suzuka)
13 October - Korea (Yeongam) *
27 October - India (Buddh International)
3 November - Abu Dhabi (Yas Marina)
17 November - United States (Austin)
24 November - Brazil (Interlagos)
* Subject to confirmation
Singapore Grand Prix 2012, day two
Saturday, 22 September:

Third practice 10:55 BST; Live video on the Red Button and online, audio on BBC 5 live sports extra and live text online. Qualifying 13:00 BST; BBC One, BBC Radio 5 live and live text commentary online
Singapore Grand Prix 2012, day three
Sunday, 23 September:

Live race coverage on BBC One from 12:10 BST & BBC Radio 5 live from 13:00 BST & live text commentary online from 12:00 BST. Highlights on BBC Three at 19:00 BST.