The Japanese Grand Prix is Lewis Hamilton's make or break race

By Gary Anderson
BBC F1 technical analyst
Last updated on .From the section Formula 1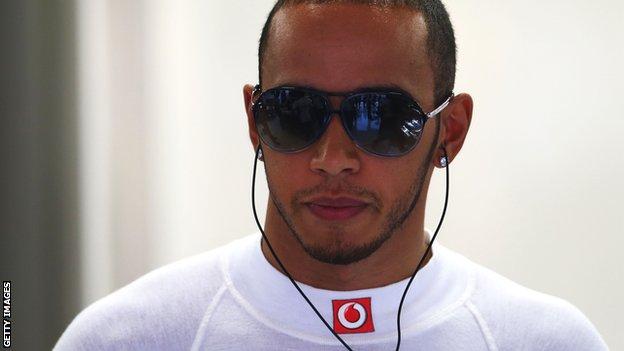 Lewis Hamilton appeared to have the Singapore Grand Prix under control before his retirement with gearbox failure.
He controlled the race from the start, after converting his pole position into a lead at the first corner, and led comfortably to the first pit stops.
Red Bull's Sebastian Vettel appeared to be more comfortable than the McLaren on the 'soft' tyre they both switched to for the second stint and was able to close him down a bit, but Hamilton said he had enough in hand to win the race, and that's the way it looked.
But reliability is everything. It's a really tight championship and you've got to get to the chequered flag.
If you start losing races like that it is very hard to pull back those points, no matter how many it is. In this case, it was as bad as it can be - 25 points down the drain.
That's why Fernando Alonso is leading the championship. The Ferrari is not the quickest car by any means but other than when getting drop-kicked by Lotus's Romain Grosjean in Belgium three weeks ago, he has finished every race.
Despite his consistency, and another podium finish in Singapore behind Vettel and McLaren's Jenson Button, Alonso will be concerned by what happened at the weekend.
He arrived in Singapore predicting he would fight for pole and victory. Ferrari had some new parts and he was optimistic that they would make the car competitive - as it was in Italy two weeks before.
But that was not the case, and in fact Ferrari ended up taking the new rear wing off the car in second practice on Friday and running with an older design for the rest of the weekend.
Alonso was nearly a second off Hamilton's pole time and although he was more competitive in the race as usual, third place following Hamilton's retirement was realistically about as good a result as he could have expected.
So far, Alonso has benefited from the drivers in the McLaren and Red Bull teams taking points off each other but that luxury is going to go away quite soon.
It has to - because Hamilton is 52 points behind. That's two complete race victories with Alonso not scoring. Button is 75 points behind, which is three complete victories.
Button finished second in Singapore and he put in a decent drive but I wonder how much he was up for it. Without the safety car, I think the gap to Vettel would have been bigger.
It's interesting that Pirelli have reverted to the thicker-gauge tyres, after running thinner rubber in Belgium and Italy to avoid blistering.
The tyres with more rubber on - especially the 'softs' and 'super-softs' used in Singapore - are the ones Button was struggling with earlier in the season. I wonder whether that was an influencing factor in his performance last weekend.
Team players
Button still has a mathematical chance of the championship but the mountain is pretty high and I think he is big enough and broad-shouldered enough to give up his hopes for Hamilton.
Button sees the big picture and will realise it's too far away from him, but his team-mate still has a chance. Whether he will be fast enough to help Hamilton remains to be seen.
As for Red Bull, they are stuck in the same position, but in their case Vettel is that bit closer - 29 points behind and Webber is 61. So I think team orders are going to have to be imposed there because as a team, you have to try to overpower the leader of the championship.
Alonso is ahead but Ferrari are going to need a performance update if he is to stay there.
McLaren have a car for all occasions - they won in Hungary, Spa and Monza and they should have won in Singapore.
The car works well in all kinds of corners - high- and low-speed, short corners and corners with a high lateral load.
If they can get the best out of the package, they have a good enough car to be on the front row with Hamilton at all the remaining races. And he's up for it, too, which is important.
Red Bull are not in quite the same position. The car was an absolute rocket ship in Valencia in June, where Vettel was dominating before he retired with an alternator failure, and no-one can explain where that pace went.
Defining grand prix
But the car was pretty decent again in Singapore. They arrived there with a new front wing and that is an important part of the car as it defines the airflow over the rest of the car.
The next race in Japan will be the defining grand prix. Suzuka is a track that really exposes the strengths and weaknesses of a car. It has lots of very demanding corners and it will show us who has the best car.
If Ferrari do not arrive there with a big box full of bits they are in danger of getting overpowered.
Alonso has fought hard for 14 races and it is time for the team to reward him for that effort with a decent upgrade.
The parts they took to Singapore were only fiddling around the edges. The fundamental car needs a bit of a lift, perhaps with changes to the underfloor, 'Coke-bottle' area or exhaust detail.
It needs to move on another step, which they have not really done since Canada back in early June.
Kimi Raikkonen is third in the championship, but Lotus appear to have fallen away a little bit recently and I think they have been overpowered by the big teams' resources and left behind in the development race.
Add all that together and in the championship it adds up to this:
For Vettel, it is very much game on. Alonso needs more car performance. Hamilton still has a chance but it depends on Suzuka on 7 October.
If Hamilton can win there and get big points against Alonso, he is back in the fight. If Vettel and Alonso beat him, then it is effectively down to those two.
Gary Anderson, the former technical director of the Jordan, Stewart and Jaguar teams, is BBC F1's technical analyst. He was talking to BBC Sport's Andrew Benson.