Lewis Hamilton: From Blue Peter to Silver Arrows
Last updated on .From the section Formula 1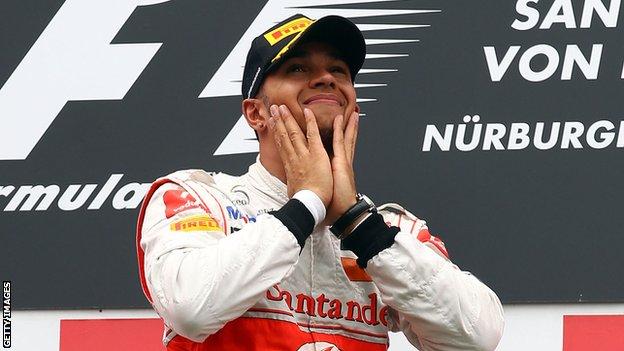 Following Lewis Hamilton's decision to leave McLaren, BBC Sport charts the 27-year-old's development from karting prodigy to big-money Mercedes recruit.
Early years
But his path to F1 glory began when he switched to go-karting aged eight, and he soon claimed numerous Cadet championships and race victories while hurtling around the Rye House Kart Circuit in Hertfordshire.
Two years later, Hamilton took the bold step of introducing himself to then McLaren team principal Ron Dennis, one of the most influential people in motor racing history, by telling him he wanted to race his cars.
After monitoring the fearless youngster's rapid progress in the junior karting ranks, Dennis got back in touch in 1998 to sign Hamilton, then 13, to McLaren's development programme and make him the youngest ever driver to secure a Formula 1 deal.
Hamilton finished fifth in the 2001 British Formula Renault Winter Series. In his second full Formula Renault UK campaign in 2003, he won the championship in dominant fashion, finishing several hundred points ahead of his nearest rival.
After success in the F3 category, he then proved his potential in GP2, the main feeder category for F1, by taking the drivers' title in his one and only campaign in 2006.
Ups and downs with McLaren
Fresh from his GP2 success, Hamilton became the junior partner in McLaren's all-new driver line-up for the 2007 season alongside world champion Fernando Alonso.
Undaunted by his colleague's record, Hamilton quickly asserted himself by finishing third in the opening grand prix of the season in Australia. It was the start of a campaign that saw him lose out on the drivers' title to Ferrari's Kimi Raikkonen by one point while collecting four race wins among 12 podium finishes.
Having signed a five-year multi-million pound contract that reflected his growing status in F1 at the start of 2008, Hamilton became, at 23, the youngest world champion in breathtaking fashion - sealing victory on the final lap of the final race on a rapidly drying Interlagos circuit in Brazil, where he stormed through to deny home favourite Felipe Massa the title.
Widely predicted to go on and win multiple world titles, the next few years would prove to be frustratingly barren for Hamilton as McLaren struggled to keep up with new guns Brawn and Red Bull.
His title defence saw him limp home in fifth, before finishing similarly off the pace in 2010 and 2011 - performances that increased speculation Hamilton would seek a change of team as the expiry date of his McLaren deal in winter 2012 grew closer.
Background to Mercedes switch
The sense that Hamilton might seek an exit from the outfit he first joined as a 13-year-old began to grow in the summer of 2012, although reported approaches to Ferrari and reigning double world champions Red Bull from his XIX Entertainment management team were rebuffed.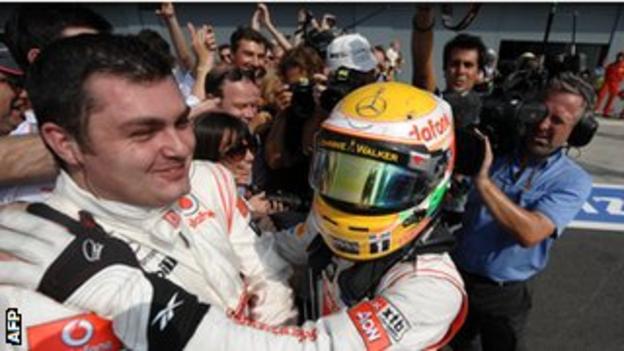 Discord was understood to have grown between McLaren and Hamilton due to the team's decision to offer him reduced terms, and doubts on the driver's part about the Woking-based outfit's long-term prospects for success.
At the Italian Grand Prix in September, BBC Sport's chief F1 analyst Eddie Jordan broke the story that Hamilton was set to move to Mercedes.
The report was met with a swift denial by McLaren, and Hamilton himself said talk of a move to the German outfit was "rubbish" in the build-up to the Singapore Grand Prix.
Despite Hamilton's remarks, however, less than a fortnight later news broke that he had signed a three-year deal to race with Mercedes from 2013.
Why Hamilton has made the move
BBC Sport's chief F1 writer Andrew Benson: "On the face of it, Lewis Hamilton's decision to move to Mercedes is a mystifying one - and that is how many people have reacted to it. But there is a logical argument for going there.
"First of all, Hamilton appears to have lost faith in McLaren's ability to deliver world championships.
"Secondly, Mercedes have pitched him a hard sell - they have argued that Ross Brawn is building a similar dynasty with them to the one he built with Ferrari, who dominated the early 2000s under him.
"They want to build that dynasty around Hamilton. They have also offered slightly more money than McLaren and more freedom to do personal sponsorship deals. It's quite a gamble, though, for a man who professes he 'just wants to win'."
What they said
Lewis Hamilton on his switch to Mercedes: "It is now time for me to take on a fresh challenge and I am very excited to begin a new chapter racing for Mercedes. Together, we can grow and rise to this new challenge.
"I have been incredibly fortunate to have been part of McLaren and Mercedes since I was 13 years old, and I even remember signing my first contract with them. I will be forever grateful for the opportunity that they have given me and for their support throughout the years."
Mercedes team principal Ross Brawn: "The arrival of a driver of Lewis's calibre is a testament to the standing of Mercedes-Benz in Formula One and I am proud that Lewis shares our vision and ambition for the success of the Silver Arrows.
"I believe the combination of Lewis and Nico [Rosberg] will be the most dynamic and exciting pairing on the grid next year, and I am looking forward to what we can achieve together."
McLaren team principal Martin Whitmarsh: "It's entirely appropriate that I should take this opportunity to pass on our thanks to Lewis. He wrote a huge chapter of his life and career with us, and was, and always will be, a fine member of an exclusive club: the McLaren world champions' club.
"It goes without saying that we all wish him well for the future, just as it also goes without saying that we hope and believe that [Hamilton's replacement] Sergio [Perez], too, will become a member of that exclusive club before too long."
BBC F1 chief analyst Eddie Jordan: "Hamilton has ability and global presence. I do not see why he cannot win the world title with Mercedes.
"Michael Schumacher transformed Ferrari when it was lacklustre when he joined them [from Benetton] in 1996, and they went on to win five world titles together."