Lewis Hamilton 'exit will not affect McLaren's bids for titles'
Last updated on .From the section Formula 1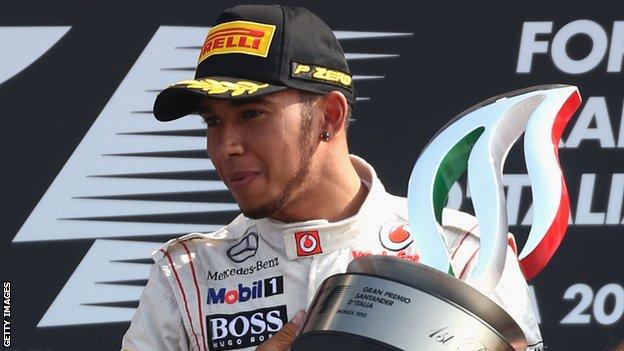 McLaren say Lewis Hamilton's decision to move to Mercedes will not affect attempts to win both world titles.
Team principal Martin Whitmarsh says they will continue with their policy of equality of opportunity for both drivers.
"We have six grands prix ahead of us that we can win," Whitmarsh said.
"It's acknowledged we have the quickest car, so we're going to try to win two world championships, with Lewis very much part of the team."
Hamilton's move to Mercedes for 2013 was announced on Friday, but he has emphasised that he is still determined to try to win his second world title this year.
After retiring from the lead in the last race in Singapore, Hamilton is 52 points behind the championship leader, Ferrari's Fernando Alonso, with a maximum of 150 points still available.
"In terms of the championship," he said, "there's nothing to be gained by analysing the points tables, from now on, it's simply gloves-off. As in Singapore, I'll come out fighting, I'll just be hoping for a better result next weekend."
Whitmarsh added: "It is well known that McLaren goes racing giving both drivers an equal opportunity. We'll be working together.
"Lewis has assured me that at the moment he is a McLaren driver and he's focused on winning.
"He will be professional, the team will be professional around him and we will be seeing if we can do the best job we can."
Hamilton is fourth in the championship ahead of this weekend's Japanese Grand Prix at Suzuka.
Alonso is 29 points ahead of Red Bull's Sebastian Vettel, with Lotus's Kimi Raikkonen third, five points ahead of Hamilton.
Red Bull's Mark Webber in fifth and McLaren's Jenson Button still have outside chances of the title.
The Australian is 62 points behind Alonso, and Button a further 13 behind Webber.
Meanwhile, Whitmarsh believes McLaren can turn Hamilton's replacement, the Mexican Sauber driver Sergio Perez, into a world champion.
"We have the opportunity to mould and form the rising star of Formula 1," Whitmarsh said.
"We have the opportunity to turn him into an international brand, and international star and a world champion, and that's exciting.
"Jenson has enjoyed the challenge of racing Lewis; he's excited about working with Sergio. He's involved in a bit of driver management himself.
"He was generous enough to tell me he thinks we've made absolutely the right call.
"He's a generous spirit and I'm sure he'll be supportive of Sergio but they'll be trying to beat each other and try to win and that's how we like going motor racing."