Valtteri Bottas of Williams aims to be next Flying Finn

By Andrew Benson
Chief F1 writer
Last updated on .From the section Formula 1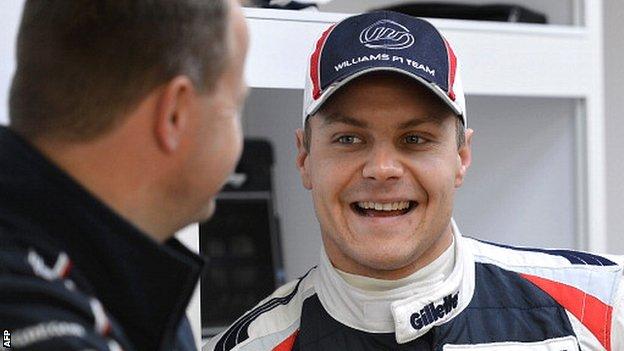 The Finns are quite good at Formula 1.
This small Scandinavian country of 5.4m people, which spends half the year covered in snow, has produced more world champions per head of population than anywhere else.
And it seems an illustrious lineage of 'Flying Finns' that includes Keke Rosberg, Mika Hakkinen and Kimi Raikkonen may already have a new generation in Valtteri Bottas, who has been turning heads as Williams's reserve driver this year.
Bottas took part in the first practice sessions at 15 of the 20 races, and he was faster than Williams race driver Pastor Maldonado in six of them, and usually pretty close in the ones he wasn't.
It is notoriously difficult to compare drivers' lap times in practice because the teams closely guard the information regarding how the car is set up, how much fuel it has on board and so on, all of which can have a significant impact on performance.
But Williams chief operations engineer Mark Gillan says Bottas's times have been "representative". That is impressive enough, for while Maldonado can be pretty wild, he is also obviously very quick.
In fact, Gillan could not be more effusive about the potential he sees in Bottas. He describes the 23-year-old as an "exceptional talent".
Senior engineers at F1 teams pick their words carefully when it comes to drivers' abilities, so when someone such as Gillan says something like that, you pay attention.
"He hasn't put a foot wrong, which is very impressive indeed," Gillan adds. "He's very quick, he's very professional, he's very diligent, and he's got a good brain on him. And his [technical] feedback is such that he doesn't say too much, but what he does say is succinct and is directed specifically at areas where you look at it [and] you say, yeah, that's right."
Which sounds remarkably like how some of those who have worked with Hakkinen and Raikkonen would describe them.
But while Bottas may have the potential to drive like his illustrious compatriots, his public persona is very different. Where they are monotone and monosyllabic, Bottas is engaging company, although his dedication to his profession is clear.
"It has been pretty good," Bottas says, summing up how he feels his first season at Williams has gone.
"I have been matching my goals. Before the season started I told myself I don't need to be quicker than Pastor immediately; there's no way because he's been already driving for a lot of races and has a lot of mileage in the car.
"But actually everything started really well. From the first Friday practice I was on the pace pretty well.
"It's been nice to see that I can be on the pace. That's nice to know but I'm still improving and I feel there's much more to come."
Bottas has been treading a well-worn path. Teams have been able to run third drivers in Friday practice sessions since the mid-2000s. It is how Sebastian Vettel and Robert Kubica cut their teeth. Like Bottas, they made an instant, and strong, impression, and both have done pretty well since, it has to be said.
Another man who stepped up from a role as test driver at a big team, albeit at a time when testing happened away from the tracks, was Fernando Alonso. He turned out to be rather good, too.
It is asking a lot to expect Bottas to have the ability of an Alonso, Kubica or Vettel, but Williams are immensely impressed by him, in and out of the car.
And Bottas seems to have the right idea about how to go places in F1.
Ask him what qualities a driver needs to be a success, and he says: "You need to be smart, intelligent, to be very motivated, to learn more to be better than your team-mate and than everyone else on the grid if you want to make it to the top.
"You need the natural talent but if you want to go far you need to have the hunger to do more, to improve more, because there's so much more to learn, so much fine details if you are interested that can make a difference."
Bottas has already garnered a reputation as a fitness fanatic - not something that could always be said of Raikkonen - and he says he is aided in that by the fact that his girlfriend of two and a half years is the Finnish Olympic swimmer Emilia Pikkarainen.
"That definitely helps," Bottas says. "She knows that in any sport if you want to get to the top it needs a lot of help and sacrifices. She also is focusing on her own thing, the training and aiming for her competitions, so it is not like one of us is always at home and waiting."
So impressive has Bottas been in the car this year that Williams preferred to promote him into a race seat in 2013 alongside Maldonado rather than stick with Bruno Senna, who brings considerably more financial backing with him.
Times are tough in F1, so it says a lot for Williams's opinion of Bottas that they have decided to go that route.
F1's newest driver comes from what he calls a "normal" Finnish family - "not rich; my father runs a small cleaning company in Finland and my mother is an undertaker" - and does not have millions behind him.
Williams's protégé Bottas may be, but there will be no easy ride for him next season, as the team's executive chairman and shareholder Toto Wolff makes clear.
"We believe he is going to do well," Wolff says. "He is going to learn a lot from Pastor at the beginning and for us it is important to score regular points, and this is what we are expecting from him."
Those expectations, and the intense atmosphere of F1 itself, bring pressure, but Wolff, who is also Bottas's manager, believes he will handle it well.
"In F1 you have to cope with pressure," Wolff says. "I think Valtteri is capable of coping with that. It's not the case that it is a rookie season and everything is allowed. He knows that but he is a relaxed driver and always has been.
"The car is a carry-over from this year and not a big step like we are expecting from 2014. I am not expecting huge differences in performance.
"If our drivers are able to score points regularly, push each other, avoid mistakes, it should propel us and make us look better in the constructors' championship at the end.
"The aim is to be annoying the midfield and maybe even annoying some of the big boys as well. This is what we planned for this year but in the end it did not pan out to materialise that way. We are pretty clear about that. It must materialise next year."
Entering his first season in F1 he may be, but Bottas's ambitions stretch much further than that.
"I want to be the world champion some day," he says. "I guess many people are just happy to get to F1, but I want more and I hope the team can see it and that they can see I can do really well if I drive the car more."
That, though, will have to wait. For now, Williams and Bottas are jumping in at the deep end together next year.
Is Bottas ready, I ask Gillan?
"He's certainly not far from it," Gillan replies. You can take that as a resounding yes.