Lewis Hamilton backtracks after Jenson Button 'disrespect' claim
Last updated on .From the section Formula 1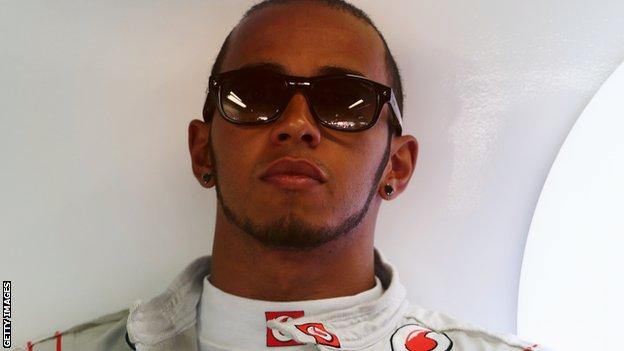 Lewis Hamilton says he made a mistake accusing Jenson Button of disrespect after wrongly believing his McLaren team-mate unfollowed him on Twitter.
The 27-year-old wrote: "Just noticed @jensonbutton unfollowed, thats a shame...I thought we respected one another but clearly he doesn't."
When Hamilton realised Button had never followed him he revoked his statement.
He added: "My bad [mistake] just found out Jenson never followed me. Don't blame him!"
A journalist last week tweeted that Button had stopped following Hamilton on Twitter and had instead started following Sauber's Sergio Perez, who will replace Hamilton at McLaren next season with the 2008 world champion joining Mercedes.
However, Button tweeted: "Never followed him...makes a story though!!"
It is not the first time Hamilton has found himself in trouble because of Twitter.
He previously posted a picture of the telemetry from his and Button's qualifying laps at the Belgian Grand Prix, which the team quickly told him to remove.
The Briton is 42 points adrift of leader Fernando Alonso in the championship.
He finished a disappointing fifth in Sunday's Japanese Grand Prix, with Red Bull's Sebastian Vettel taking victory.