Formula 1's greatest drivers. Number 5: Alain Prost
Last updated on .From the section Formula 1220
This year, BBC Sport is profiling 20 of the greatest Formula 1 drivers of all time. The BBC F1 team were asked to provide their own personal top 20s, which were combined to produce a BBC list. Veteran commentator Murray Walker provides his own reflections in a video of their career highlights, and chief F1 writer Andrew Benson profiles the driver. This week, number five - Alain Prost.
Alain Prost drove like poetry and was an integral part of one of the greatest rivalries sport has ever known.
The diminutive, curly-haired Frenchman won four world championships and, had fate taken a different turn, it could easily have been him who reached the magic seven long before Michael Schumacher did.
That's quite a career. Yet to this day Prost is to a degree undervalued, dismissed as a calculating figure who played the percentages and when it came to ultimate speed was a poor second best to Ayrton Senna.
If Senna was still alive, though, he would almost certainly dispute that picture of Prost.
It was Prost's outstanding talent against which the great Brazilian measured himself. It was Prost's deceptive speed that pushed Senna to such heights. It was Prost who beat Senna on equal terms more than anyone else - his career win ratio is actually slightly higher.
If Senna was the greatest racing driver of all time, as many believe, Prost got closer to him than any contemporary.
Where Senna was all-action, high-octane attack, Prost was understatement itself.
Out on the track, he hardly ever seemed to be trying. He used so little of the road; the car was hardly ever out of shape, his driving silky smooth and ultra-precise.
He turned in early on the brakes, exquisitely balancing the car to the apex, allowing him to get on the power early and come off the corner like a rocket. And it was all done with an apparent ease and economy of effort that made you think anyone could do it.
The stopwatch, though, told a different story.
John Watson, Keke Rosberg, Jean Alesi, Damon Hill - all former team-mates who were left shaking their heads in admiration at how Prost took their car to limits beyond their reach. Even Nigel Mansell found him tough to handle when they were at Ferrari together in 1990.
But it was Prost's incredible rivalry with Senna that has come to define his career. Their battle for supremacy, as McLaren team-mates in 1988-9 and after Prost moved to Ferrari in 1990, drove both men to new highs and new lows, and Formula 1 to an intensity it has never reached before or since.
As they waged war on and off the track, both men were visibly out of their comfort zones. They pushed each other to the limit and beyond. It was frightening - and exhilarating - to watch.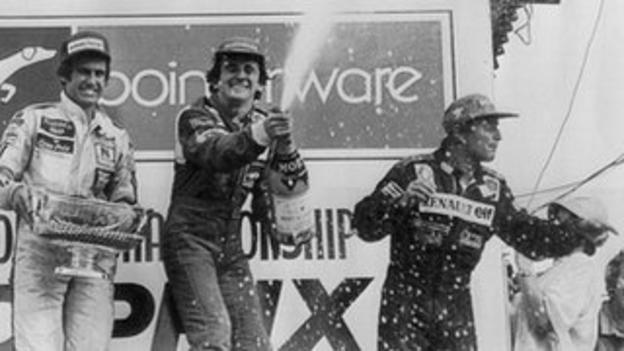 Only a driver of the very highest calibre could have done this to Senna, and Prost was undoubtedly that.
By the time these two mega-talents collided at McLaren in 1988, Prost was comfortably established as the man to beat in F1. He already had two world titles and should have had more.
His first, won in dominant style in 1985 once the challenge of Ferrari and Michele Alboreto faded after mid-season, was long overdue.
Had Renault's reliability not been so lamentable in 1982, Prost would have cruised to the title, once Ferrari's Gilles Villeneuve was killed early in the year.
In 1983, he was in a seemingly unbeatable position with four races remaining, only for Renault's challenge to fade in the face of an onslaught by Brabham-BMW and Nelson Piquet, helped by a potent - and controversial - new fuel.
And Prost should have won easily following a move to McLaren in 1984.
He took seven wins; team-mate Niki Lauda five, four of which came after Prost suffered reliability problems while running ahead, the fifth after similar issues forced him to start from the pit lane. Prost lost out by half a point.
The mid-1980s was F1's first turbo era, which from '84 came with a fuel limit, and Prost's driving was perfectly tailored to the demands of the time.
Time and again, he would start the race unobtrusively, saving fuel and tyres, sitting calmly some way back from the lead, only to turn it on as mid-race approached.
Suddenly, the TV screens would light up with a succession of fastest laps by Prost. Then, the pit stops done, he would emerge in the lead and in control of the race.
Prost underlined his position as the best all-round driver in F1 with probably his greatest championship victory in 1986.
Faced with the faster Williams-Hondas of Mansell and Nelson Piquet, Prost drove a perfect season to steal the title from under their noses in the final race of one of the most exciting seasons in history.
But as he climbed out of his car after taking the chequered flag in Adelaide that year, his joy visible even at some distance through the narrow aperture of his helmet, a threat to his position at the sport's pinnacle was already on the horizon.
Senna was emerging as the fastest driver on the planet and he had Prost in his sights.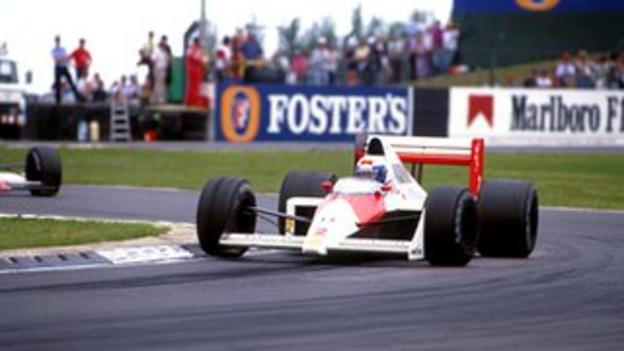 For 1988, McLaren had got hold of the coveted Honda engines, and when team boss Ron Dennis was looking for a partner for Prost, the Frenchman counselled against Piquet, thinking he would be disruptive, but gave his blessing to Senna.
The irony in that stance will escape no-one, for nothing could have been more disruptive to the intra-team harmony at McLaren than the force of nature that was Senna.
Two huge talents, both intensely competitive, highly intelligent and politically astute. It was always going to be trouble.
Senna went to McLaren with the aim of crushing Prost and while he was unquestionably the better driver in their two years at McLaren, so too there were times when Prost beat him fair and square.
Jo Ramirez, the team co-ordinator at McLaren at the time, sums up the rivalry by saying that Senna was faster in a less-than-perfect car, which is what F1 cars most often are. But on the occasional days when Prost managed to get his set-up just to his liking, not even Senna could touch him.
The relationship between the two men, always cool, was tolerable for much of 1988, but it took a turn for the worse after Senna barged Prost within inches of the pit wall while the Frenchman was passing him for the lead in Portugal.
Senna went on to win the title, taking some of the tension out of the pairing, but it broke down completely at Imola in early 1989, when Senna ignored a pre-race agreement not to fight into the first corner.
Mid-season, Prost announced his intention to leave - and he took with him to Ferrari the world title. He won because of poorer reliability on Senna's car, and after the Brazilian was disqualified in dubious circumstances following a collision between the two men in Japan.
The rivalry - with intensity undimmed and Senna fuming at the injustice - continued into 1990. They fought another close title battle, which was settled for the second year running in a crash at Suzuka- this one, unlike that in 1989, undoubtedly Senna's fault.
But in 1991 Ferrari went off the boil, failing to win a race and, in one of their less intelligent decisions, Prost was sacked before the end of the year after likening the car to a "truck" in an interview.
With no drives available, he took a forced sabbatical in 1992, but returned with Williams in 1993. Now 38, and driving only as fast as he needed to, he still dominated the season, winning seven races and taking 13 pole positions.
Prost had a two-year contract, but when Senna signed for 1994 Prost decided he did not want to go through all that again and announced his retirement.
His five-year tenure as a team boss best forgotten, Prost leaves behind memories of a man who drove like an angel, won more races than anyone in history bar Schumacher, and who pushed arguably the greatest racing driver of all time beyond his limits.
That's a legacy that deserves the utmost respect.
Number 17 - Emerson Fittipaldi