Jaime Alguersuari column: Consistent Alonso can still win title

By Jaime Alguersuari
Former F1 driver and BBC Radio 5 live analyst
Last updated on .From the section Formula 198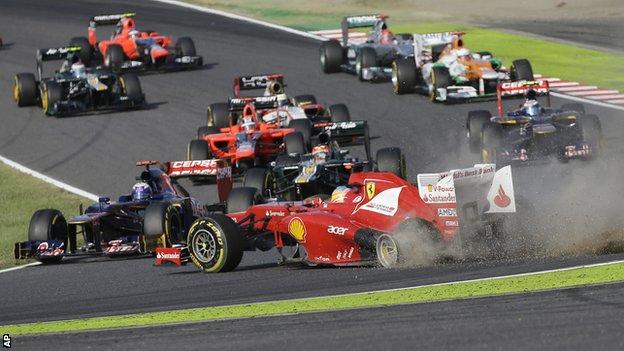 For some time I have been saying that Ferrari's Fernando Alonso would probably win the world championship this year because of his consistency, but the situation has changed a little following the Japanese Grand Prix.
This is nothing new in Formula 1. Everything has been so close this season; it is one of the closest seasons in the sport's history.
The points advantage Alonso had built up has gone as a result of his first-lap retirement at Suzuka and Sebastian Vettel's Red Bull is more competitive than it has been all year.
The Red Bulls' pace in Japan was unexpected. Everyone thought they would be competitive in Singapore because they have been good all year on second- and third-gear corners and on traction. Those had been the big strengths of that car this year.
I didn't think the Red Bull would be so fast at Suzuka, which is a track with long straights, high-speed corners and a lot of lateral stress on the tyres.
But in fact they controlled the weekend from the start of Friday, and that means their chief technical officer Adrian Newey has improved the car.
The competitive situation is changing race by race. What Alonso needs to concentrate on now is to just keep on doing what got him into such a good position in the first place - being consistent.
He doesn't have the fastest car, but he never did. He just needs to keep scoring big points - to be in the top five, or ideally on the podium, in every race.
WHO'S TO BLAME FOR ALONSO'S RETIREMENT
There are a lot of opposing views on the incident that led to Alonso's puncture, which was caused by the front wing of Kimi Raikkonen's Lotus hitting the left rear wheel of the Ferrari.
Some people have blamed Raikkonen, others have blamed Alonso. In my opinion, it was just a racing incident.
The start at Suzuka is never easy. There are two corners in one, lots of cars, it's high speed and everyone wants to make up places. In 2010 there was also a big crash.
These things happen at the start of a race. You just need to try to avoid as many crashes as you can, but sometimes there is nothing you can do.
LOOKING FORWARD TO KOREA
I expect Red Bull's advantage to continue into this weekend's Korean Grand Prix.
There is a good combination of corners in Korea and the layout is not that different in lots of ways - there are high-speed and medium-speed places and long straights, although there is more hard braking there than at Suzuka.
It looks like Red Bull have solved all the technical problems they had earlier in the year.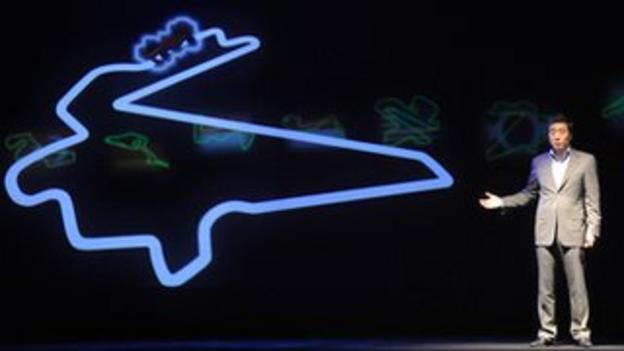 That is an area where Ferrari have had an advantage - their car has never retired from a race this year because of a technical issue, whereas the other teams have struggled a little bit more.
If Red Bull can carry that on, that is going to make a difference in this final stage of the championship.
I don't see that on pure performance Alonso has much of a chance to beat Vettel in Korea, but he has a big chance to be on the podium.
The Ferrari is a good car and they have developed it very quickly. It's a consistent car and the fact that it's driven by Alonso makes it even better. He knows how to maximise the potential of his own car.
But the Ferrari is not the favourite for any specific race - it is not as fast as the McLaren or the Red Bull. Alonso has to play his cards as well as he can and hope the results go in his favour.
There are five races to go, starting in Korea, but although it feels like it's coming to the end of the year it's important for all those involved in the title battle to realise that five races is actually a quarter of the season.
There are a lot of points to play for and anything can happen.